How to add extras to experiences
This article explains what an extra is and how to create extras for your experiences
What is an extra?
An extra is any additional service, product or fee that you want to include as part of your experience offering.
What is an exmple of an extra?
equipment rentals like helmets, scuba diving gear, hiking boots
fixed fees for national park entrances or similar fees
added expenses like a gasoline charge
How to Create an Extra​
Extras are created and configured for each product.
1. Navigate to the product you would like to add the new extra to.
2. Select "Extras" from the side menu on the left hand side of the screen.
3. Click on "+ Add extra" to create a new extra.
Configuring Extras​
Title:  The name of the extra. The name will be visible to your customers in the first step of your booking process.
Product code: This is a unique reference number for your extra (optional).
Commission Group: You can assign the extra to a commission group. This gives you the ability to control the commission for this extra individually from the rest of your products when you create a contract in the Marketplace (optional).
Max units per booking:
No maximum: No maximum limit on the quantity of bookable extras. If one passenger books, they can add as many extras (T-shirts) as he wants.
Maximum by participant: Maximum number of extras is the same number as the number of participants for the booking. For example, if three people book, only three t-shirts can be added to the booking.
Custom: Set a customized maximum number of extras per booking.
Description: Add a short description for your Extra (optional).
Click on "Submit" to save your extra.
How to Add Prices to Extras​
After you have created an extra, you will have to add it to your rate.
Go to your Rates. You can find them under "Pricing" on the side menu on the left hand side of the screen.
Click on "Add extra(s)" on the rate or rates you want to add the extra to.
3. Click on the "Add extra(s)" button.

4. Select the Extra you have created and select it from the drop-down list.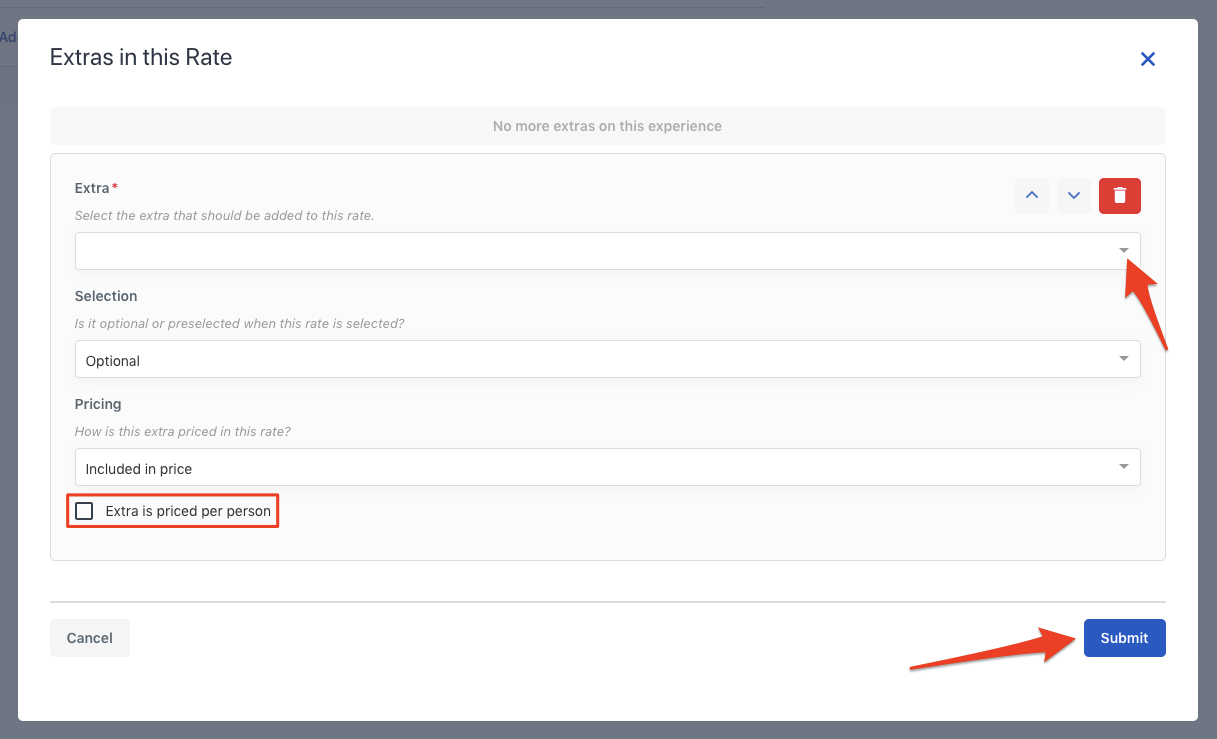 Selection: You have the option of making the Extra optional or preselected (always included).
Pricing: Choose if the price of the Extra is included in the price of the experience or priced separately.
Extra is priced per person: Check this box if you want each person to be charged for the extra.
5. Click "Submit"
IMPORTANT: If the pricing of the Extra is separate from the price of the experience, then you will have to go to the price catalog to add pricing for the Extra.
A red warning will appear in the top right-hand corner of the screen to alert you that pricing is needed
How can I keep track of the sales of the extras?​
In the Income statement report you can see detailed information on all the Extras you have sold.