Online Travel Agencies (OTAs)
In this article you will learn about online travel agencies (OTAs) and how to integrate them through Bókun.
What is an OTA?​
An online travel agency is a reseller that sells your products on their website for a commission. You can increase your product exposure and sales by connecting to an OTA that Bókun collaborates with. By doing so, you allow the OTA to access your inventory, availability and prices in real time.
How does Bókun connect to OTAs?​
Bókun integrates with OTAs in two different ways. One way is through a live integration. The second way is through a partnership through the Bókun Marketplace.
Where can I find the OTAs that Bókun integrates with?​
To see a complete list, select Sales tools > OTAs in your Bókun account.
What OTAs have a live integration with Bókun?​
Viator, GYG and Expedia local expert offer a live integration service. A live integration is a direct connection to a sales channel. When a traveler is looking at your products on an OTAs' website, such as Viator.com, Viator will be displaying availability directly from your Bókun account. When a booking is created on their website, the booking information will be delivered straight to your Bókun account, updating the availability of all your connected channels, automatically.
Please note: You need to sign up with these OTAs directly on their website and set up your products with them before being able to connect Bókun to them.

How do I know if an OTA live integration is active?​
OTA integrations can have two statuses: Contract pending and Active. You can check the status of each integration under Sales tools > OTAs.
Active appears when a live integration has been established and the OTA has performed an availability check
Contract pending appears after Sell through this channel has been clicked but the live integration hasn't been established

What OTAs do I connect through the Marketplace?​
The other OTAs we collaborate with are like regular sellers on the marketplace and subject to the 1,5% fee charged per booking. You can see the complete list of OTAs on the OTAs page under Others in Bókun. See some examples (but not all) below.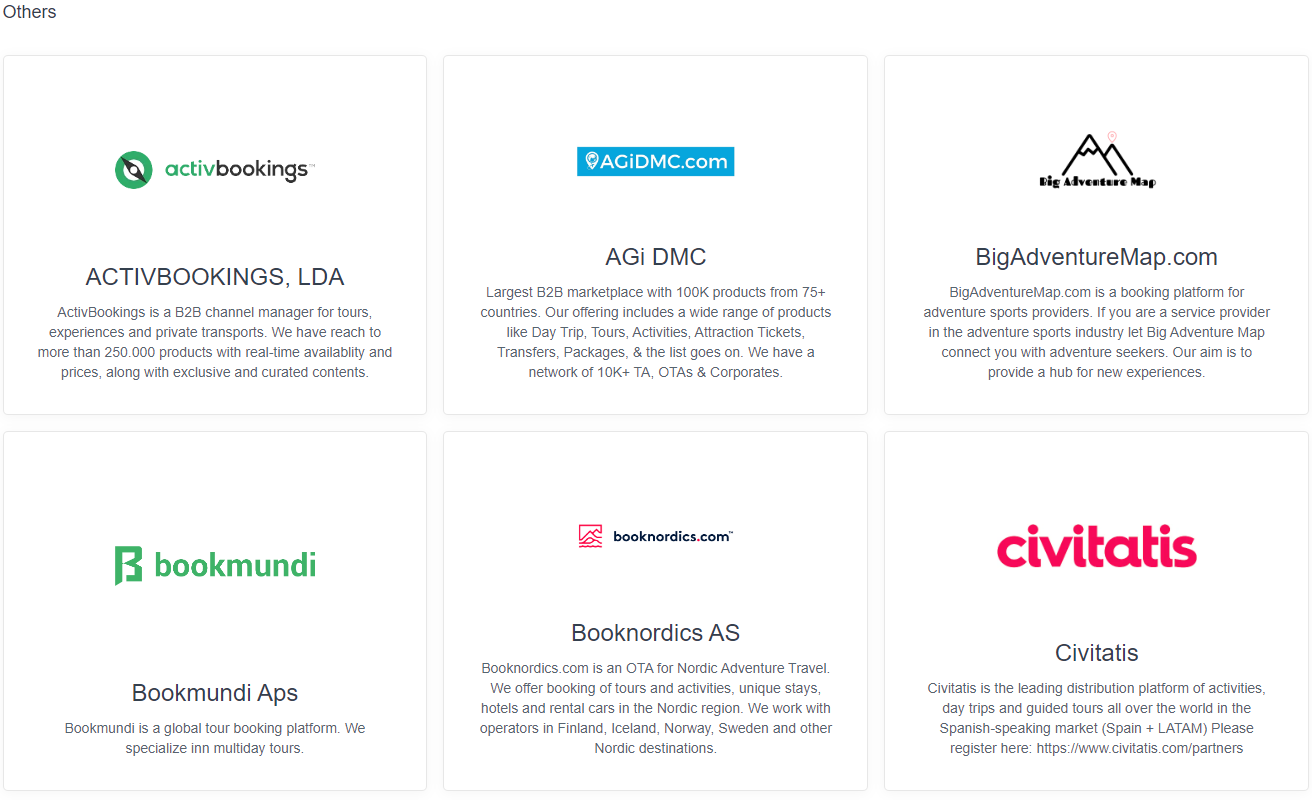 How do I connect with a Marketplace OTAs?​
You can connect with the OTAs by clicking on the name of the OTA that you want to connect with and select Offer my products.

You can also connect with them in the marketplace. Here is how:
Head to the Discover partners
Click on their business card
Click on Offer my products button
Complete the marketplace contract proposal
Click Send
Please note: In order to connect to OTAs via Marketplace, you need to make sure you have set up your contract terms.
If you need any further information on how to send contract proposals via Marketplace, you can check out our step-by-step guide and scroll down to How to set up a seller contract.
What prices should I set up with the OTA?​
The prices you set up in the contract terms with OTA should be your retail prices. The prices you give to the OTA are the prices that will appear to the traveler on the OTAs website.