How to connect Bókun and GetYourGuide
Bókun offers live integration with OTAs such as GetYourGuide. A live integration is a direct connection to a sales channel. When travelers are looking at your products on an OTAs' website, such as GetYourGuide.com, the website will display availability directly from your Bókun account. When a booking is created on their website, the booking information will be delivered straight into your Bókun account, updating the availability of all your connected channels, automatically.
Please note, in order for you to connect to GYG you need to be on Bókun PRO.
How to set up the connection in Bókun​
The first thing to do is to sign up with GetYourGuide if you haven't already and create your products.
Please note that you need to have active products on GetYourGuide in order to connect them to Bókun.
1. Select Sales tools > OTAs > GetYourGuide
2. Click on Sell through this channel by GetYourGuide.
If you have not signed up for an account on GetYourGuide, select Go to OTA signup page on the right-hand side of the screen.
⚠️ Please note that this does not automatically connect you to GetYourGuide. You will need to log into GetYourGuide to finish the integration process.
3. Obtain your Bókun Product ID by going to Experiences > Experiences overview on the side navigation. You need to match your Bókun Product ID to the corresponding GetYourGuide (GYG) product.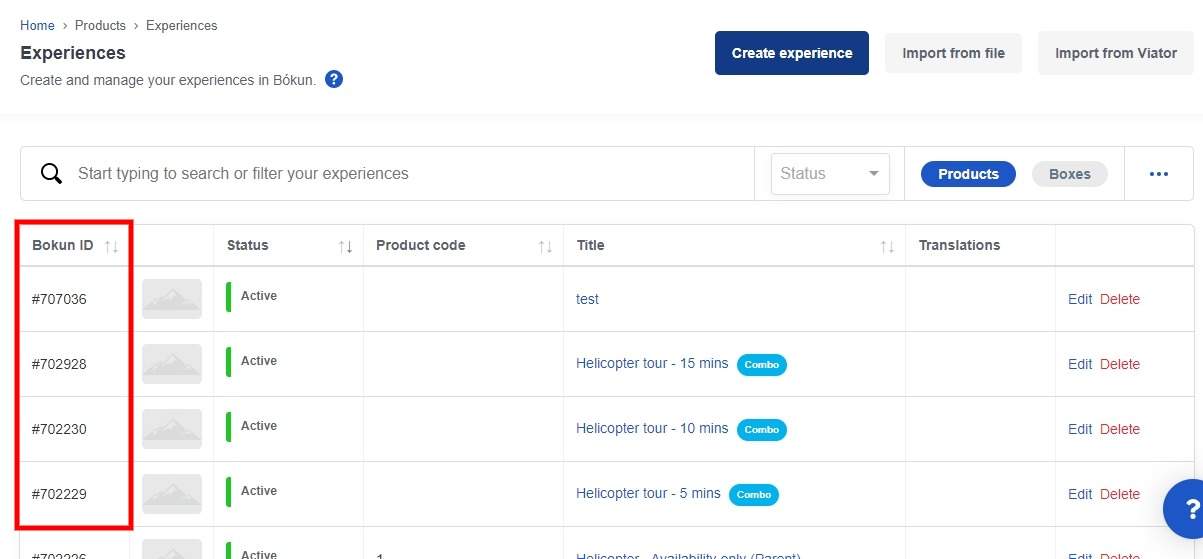 Important: Make sure you are using the correct Bókun ID number with the corresponding GYG product option. Each product has its own unique number.
4. Log into your GYG Supply Portal account and connect the products.
How to connect your products on GYG​
On the Home page, please click Manage Products
Choose the activity you would like to connect, click edit.
Choose the Options view (as all connections are happening on tour option level)
Select edit next to Connectivity Settings
Select your reservation system from the dropdown list and enter in your product ID from the product in Bókun.
ℹ️ You can find a more detailed description of the GYG self-mapping guide steps to finish the connection on their side here: self-mapping documentation.
After you finish the integration in the GYG Supply Portal, you can manage your availability in Bókun.
How to Connect Specific Rates in Bókun to Product Options in GYG.​
1. Find the corresponding Bókun Product ID, e.g. Bókun Product ID: 495354
2. Find the Bókun rate code (in the product that you selected in step 1)  for the corresponding tour option, e.g. Rate ID: 986788

3. Log into GYG and enter the Product ID and Rate ID with and underscore in between them in the self mapping tool. The code for the example above should look like this: 495354_986788.
When you're connecting the product in GYG, it should look like this:
If you are unable to connect the options, please contact GYG Connectivity Support or your account manager at GetYourGuide.
Important Information​
Group price categories​
If you are selling a group type tickets on your GYG channel please make sure that the same setting is setup on your Bókun products:
Go to Pricing > Pricing Categories > Add new > Ticket Category: GROUP
Make sure to set the maximum per group and that it is the same as on GYG by clicking on > Advanced options > Group Size

make sure this category is selected on the product you are connecting via GYG.

Time zones need to match​
Please make sure your Bókun timezone matches the time zone in your GetYourGuide account.
To edit the timezone in Bókun:
Select Settings on the side navigation
Click Vendor info
Select the time zone in the Default timezone field
You can also set the timezone for each product. Find out more.