GetYourGuide Price Over API (Pricing Sync)
You can now get your prices in Bókun synced into GetYourGuide with the GYG Price Over API feature.
What is the GYG pricing sync?​
The GYG Price Over API (Pricing Sync) feature enables you to set up your product pricing in Bókun and have these sync it with GYG through API integration. Whereas, currently, you would have to set up and update your product pricing in GYG.
Your product prices in Bókun will now be the only point of reference, which means that GetYourGuide will update product prices from Bókun only.
Is the sync-up available to everyone?​
This feature is currently available to all operators using Bókun's new product pricing system provided that your products meet the eligibility criteria, as the pricing sync only supports specific product setups.
What do I need to do, before I enable the pricing Sync?​
Before enabling the pricing sync:
Check that your GYG contract terms in Bókun are up-to-date and accurate:

The currency and product prices in the contract terms must match the prices and currency you have set in GYG. For example, if you have the price in EURO in GYG, you must select EURO currency in your contract terms in Bókun
You need to add your GYG commission % in the contract terms, so that the booking invoices will show the correct commission

Make sure that the price catalog in the contract terms is associated with the products in Bókun.
You can update your GYG contract terms in Bókun by clicking on Sales Tools on the left-hand navigation menu, select OTAs, open the GYG card, click on the Contract terms button on the top right side.

How can I enable the GYG pricing sync?​
To turn this feature on, head to the OTA section on your Bókun account, select the GYG card and switch the toggle button Enable Price Over API on to enable the pricing sync: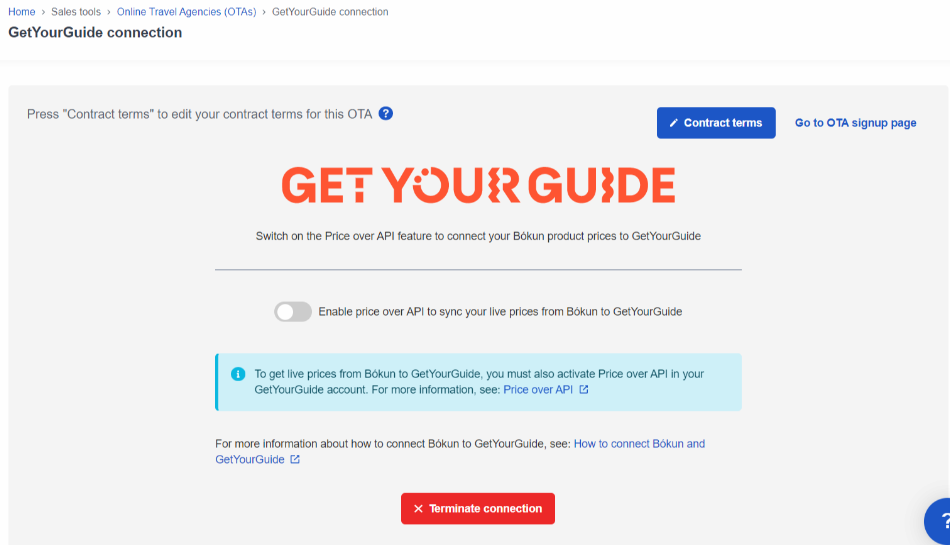 It may take up to 24h for your prices to be imported when you establish the GetYourGuide price integration. Please keep in mind that any additional changes to the prices will take 24h too.
⚠️ Please note that this feature can be turned on only for the whole account. This means all eligible products would have their pricing synced with GYG.
✴️ Now let's head to your GYG account to activate the feature.
Here are the steps how to enable the feature on Get your guide: How to enable Price over API​
Please follow below steps in GYG to enable this feature:
Confirm your reservation/ticketing system supports Price over API feature with GetYourGuide. Make sure the integration and Price over API feature is enabled in your system and copy Product IDs. For system-specific instructions, please refer to Supported Systems & Instructions article or contact your system's Integration Support.

In your GetYourGuide Supplier Administration account, Go to Products → Manage Products. Choose the product you would like to connect, click Edit details. Under Options, choose the product option you would like to connect and click Connectivity Settings → Edit.

Under Do you use a booking system for your availability?, select Yes. Select your system from the dropdown list and paste the product ID for the corresponding product in your reservation/ticketing system. Under What do you want to configure automatically?, select Availability and price.

You will be prompted to confirm that any manually configured price configurations will be deleted.

Click on Add new pricing and create pricing configuration with categories identical to the ones in your reservation system. Save your created pricing configuration.

Click Save to validate and save your settings. A success message will appear if connection was established successfully.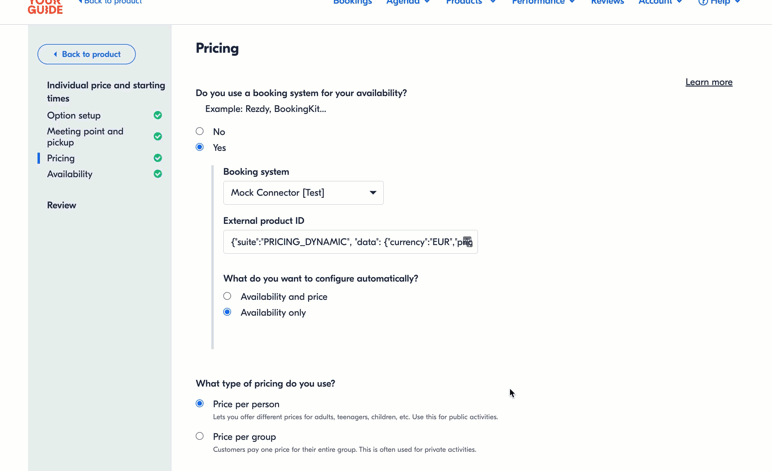 ✴️ esPlease note that this section has been copied from GYG for your convienience. You can check on GYG for additional information here.
Which products are eligible?​
Your Bókun account has to be on the new product pricing system.

How can I check which pricing system I'm on?

If you joined Bókun after April 2021 or have been upgraded to the new pricing system, you should be able to see pricing schedules in your left-hand side experiences navigation:

The product mapping in GYG needs to be to the Bókun rate and product. Unsure, find more info on GYG connections in our help centre article here.

The product pricing must be priced per person and can't have tiered pricing.

The rate must not have pickups, drops off, or extras that are priced separately in Bókun.

The pricing category and the ticket category can't appear twice. The product must not have more than one pricing category having the same ticket category. For example, a product cannot have two pricing Adult categories linked.

The Ticket category should not be set to Group type

Your contract terms in Bókun must be up-to-date:

your currency and the commission in the contract terms have to match GYG and
the price catalogue in the contract term must be associated with the product
How long does it take for price updates to sync to GYG?​
It takes up to 24 hours for the pricing to be updated on GYG. We recommended that you update your pricing in advance to avoid pricing mismatches.
What happens if there is a pricing mismatch?​
A pricing mismatch happens when the product's pricing is updated in Bókun but not yet in GYG. This might happen when you update the pricing in Bókun because it can take up to 24 hours for the pricing to be updated in GYG. In case of a pricing mismatch, Bókun will accept the booking at GYG's current price.