Define different commission for each product in the marketplace
Bókun allows flexible contracts with your sellers on the Marketplace. You can overwrite commissions for each product and ticket type. You can define different commission rates for each product in your contract terms by using the commission group feature.
Steps to defining different commissions for each product are below.
How do I create a commission group?​
In short, you can follow these steps to setup and use a comission group.
Create a commission group
Assign experiences to commission group
Add commission group to contract terms
Enter separate commissions for every commission group assigned to a contract term.
Please continue reading for more details on each step:
1. Creating a commission group​
Select Settings from the bottom left hand side navigation menu and then click Commission Groups.

Click on the blue Add button to create a new commission group

Define the settings of your new commission group.

Title: The name of the group. Note, this information will be visible on your Marketplace contracts and in your Marketplace profile.

For extras only: Check this box if the commission group you are creating is only for extras and does not apply to your main product ticket.

Product category: Select which product type this commission group is meant for.

Click Save.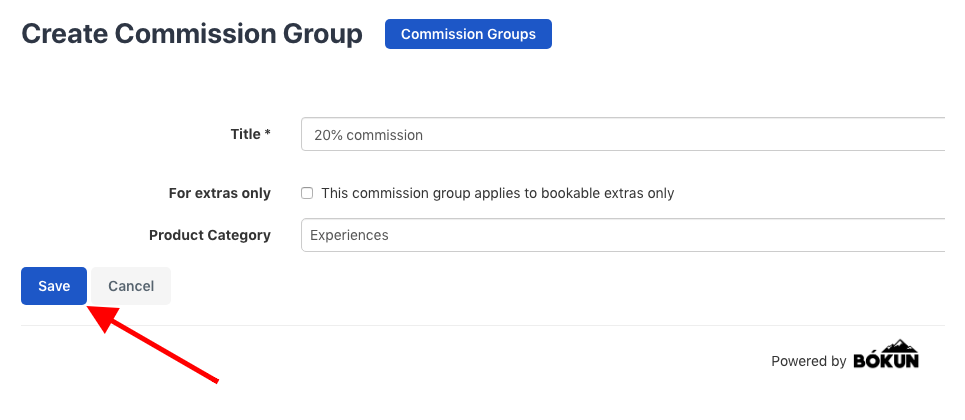 2. How do I add products to the new commission group?​
Click Experiences > Experiences overview in the navigation bar. Then open the product you want to assign to the new commission group.

Under the Advanced tab on the left side menu, navigate to Commission group and select the commission group from the drop-down menu tab.

Remember to save your changes by clicking Continue.
3. How do I add a different commission group to my contract terms?​
Select Marketplace, click on the Contract terms tab in the side navigation and open the contract term you wish to add the commission group to (or you can create a new contract term.

On the Contract terms page:

go to the Set experience commission section
make sure that the toggle for Advanced experience commission options is green
Select the commission group you want to link to the contract terms
Each contract term has a default commission value for all products but it is possible for you to manually overwrite commission for each commission group, and ticket type as shown in the screenshot above.
Please note that you can add multiple Product Commission Groups to one Contract Term. Any product not assigned to a Commission Group will be assigned the commission you add to the overall Experiences Product Commission section at the top.