Discover partnership opportunities in the marketplace
From walking tour guides and adventure activity operators to travel agents and distributors, you'll find a wide variety of businesses on the Marketplace.
In the marketplace, you can source partners based on location, type of operators (supplier or reseller) and contract status. You'll get quick information about a business, including their products and services, and have the opportunity to formalize partnerships with paperless agreements via the platform.
Let's see how it works!
Discover partners page - search partners worldwide​
Once you click on the Marketplace button on the left-hand side menu, you'll be redirected to the Discover partners page, where you can search suppliers and resellers from your local area to almost every country around the world.
If you have a specific partner in mind, you can simply type their name to have access to their business card. Supplier cards show the number of experiences they offer, their locations and product categories, whereas reseller cards display the locations and product categories they are interested in.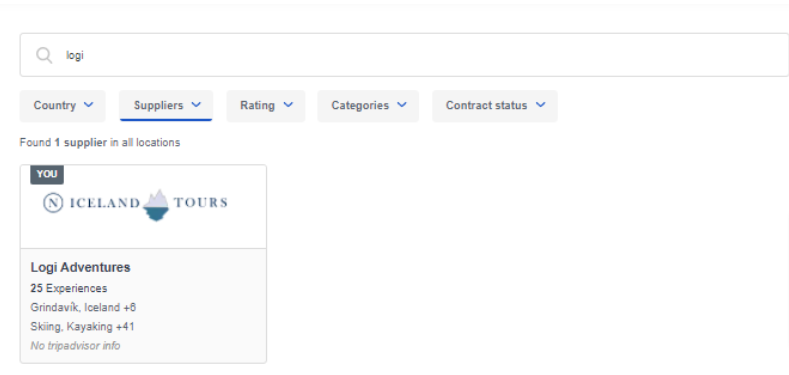 Whether you are looking for new partnership opportunities or you want to have a quick overview of the status of your existing contracts, you can refine your search using the Suppliers / Resellers filter.
If you have completed your Marketplace profile, we'll show you the most relevant results based on your role. For example, If you're a supplier, you'll land on the reseller view by default, sorting resellers looking for products in your locations and categories first to make it easier for you to find potential partners.
If you're a seller, you'll get a list of suppliers matching offering products in your preferred location and product categories. If you're both and you're looking for suppliers, select the Suppliers option to see the most relevant list of suppliers. If you need to narrow your search down further, you can also filter them by country, rating, product categories, or contract status:
If you're looking for resellers, select the Resellers option
With the Country filter, you can select the country where you want to look for business partners and refine your search by City. Please note that you can select one country and one city at a time.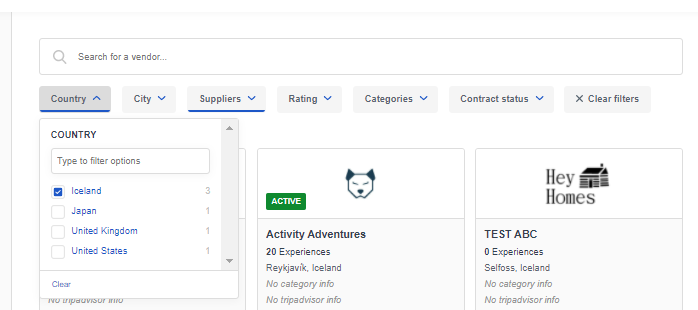 If you're looking to resell specific types of products, you can select the product themes in the Categories filter and we will show you potential suppliers that own products in the same product categories.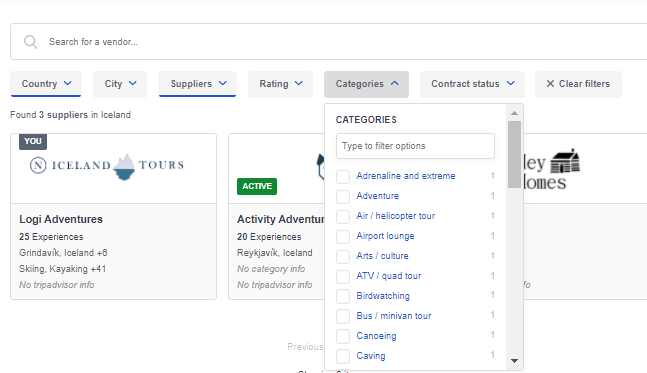 The Contract status filter allows you to show the list of suppliers or reseller with an active or cancelled contract, as well as incoming and outgoing proposals: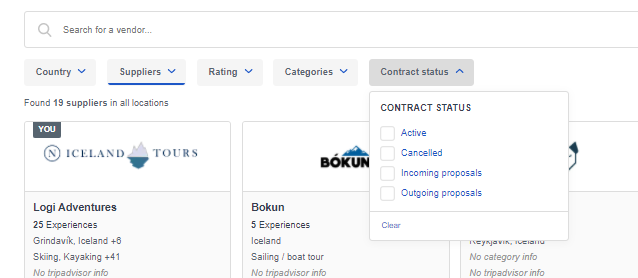 Active (in green) and Pending (in yellow) labels will be displayed on the business cards to help you to identify the contract status at a glance: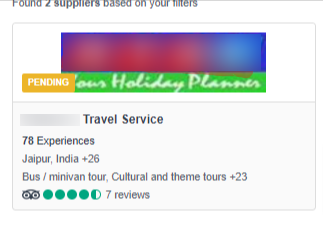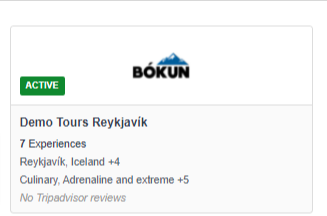 An easy way to access your existing contracts or proposals is using the Contracts section in the navigation menu (under My Contracts).
Searching for products on the Discover products page​
Head to the Discover products page to easily find new products to resell. On the Discover products page, you can filter products by:
Country: you can select the country you'd like to sell in, as well as the city.
Rating: you can filter products using the Tripadvisor reviews rating
Categories: you can filter products by type of experience (for example city tours, walking tours, adventures)
You can see the product details by clicking on the product title, or message the supplier to start a negotiation through the Send a message functionality by clicking on supplier's name.

What products are displayed on the Discover products page?​
All products included in the contract terms selected in the standard contract terms section under the Contract Terms page will be visible to everyone in the marketplace: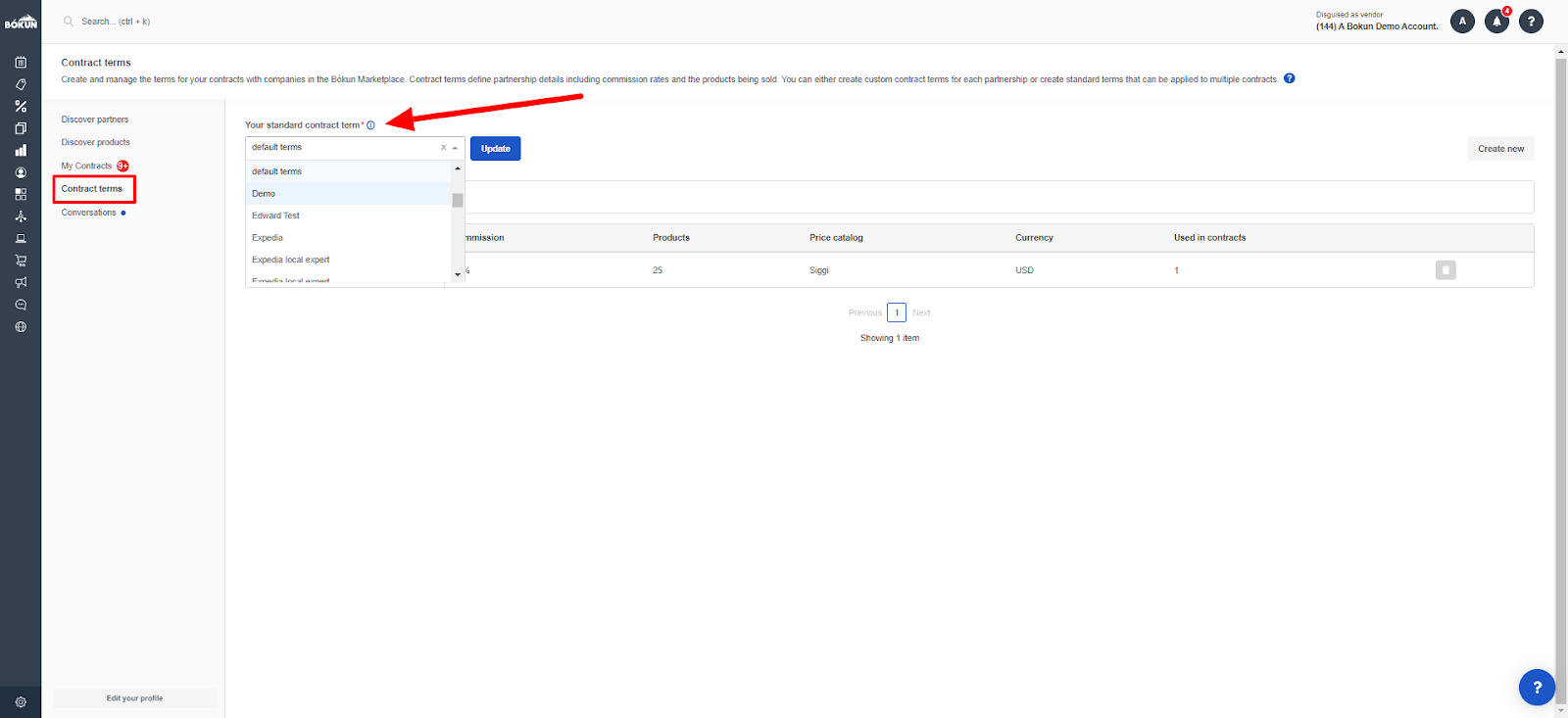 By default, the standard contract terms connected with the Discover products page are the Default terms.
To be displayed in the search results, products in the contract terms must meet the quality standards in the contract term's product selection section (among such requirements there are description, pricing, location, pictures).
If your product is not displayed in the search results, please make sure you've added it to the contract terms you've selected in the standard contract terms section on the Contract Terms page and that the product information is complete. Products that do not meet the quality standards will be flagged with an exclamation mark in a red circle: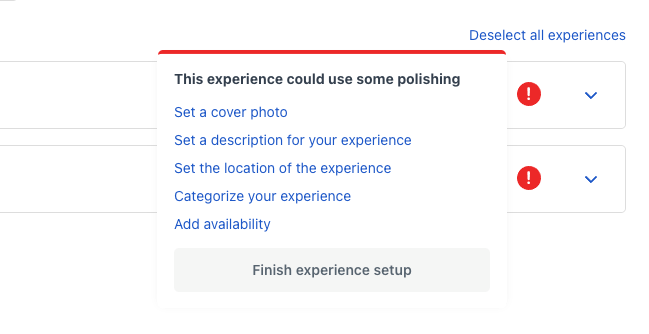 Would you like to optimize your search?​
Complete your marketplace profile and we'll show you the suppliers and resellers based on your preferences at the top of the marketplace Discover partners page.
Your marketplace profile is where you can choose your role in the marketplace. You can select:
Supplier if you own products
Reseller if you resell other companies' tour and activities
Reseller & Supplier if you do both.
You also have the possibility to personalize your marketplace business card and let potential partners know about your business and get to know you better by completing the About us section, and add your logo as well as your links to your websites and social media.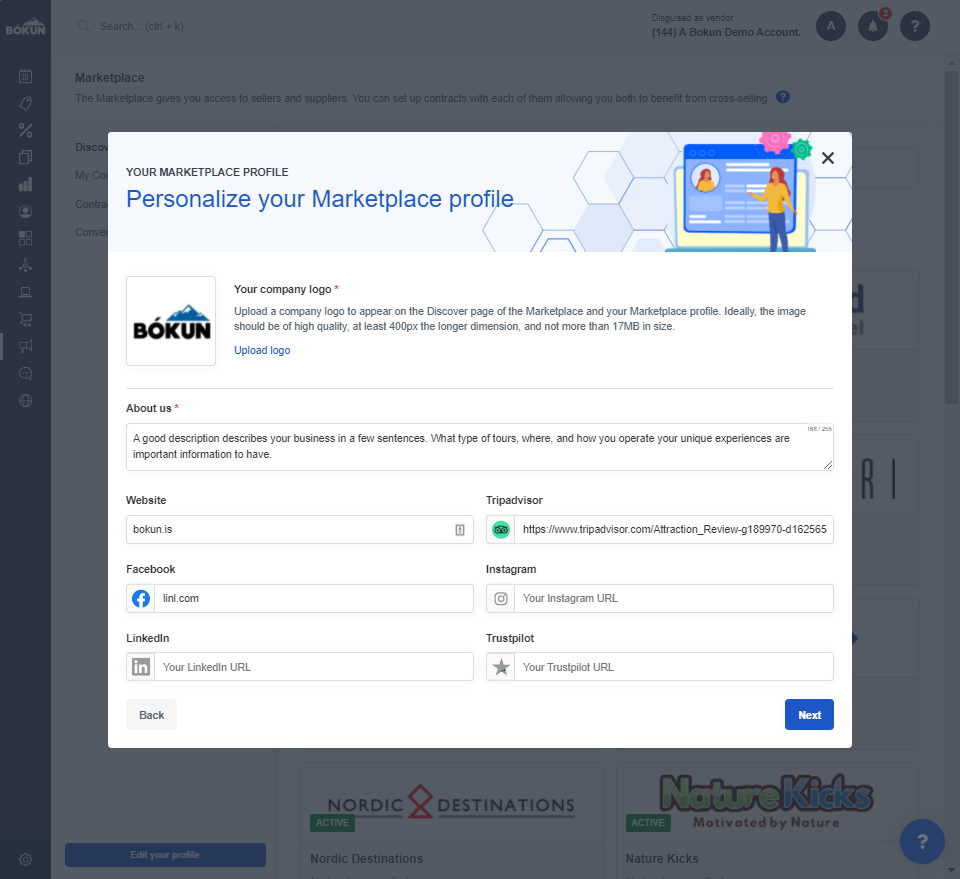 If you are a reseller, you can select which markets you want to partner in and your product categories preferences. Once you do so, Bókun will filter the results based on your preferences and display the relevant results in the Discover partners page and your company card will be shown to suppliers that own products that use the same product categories.
To edit your profile, click on Edit your Marketplace profile at the left bottom side of the Discover partners page.