Get started! How to create your own Bókun website (PRO)
This article explains how to create your very own custom website in Bókun to easily accept bookings online.
How do I create my website?​
Follow the steps below:
Navigate to Sales tools > Websites in the side navigation menu.

Click on Create a website button and select your Website Template

Name your website and click on Create website
You can click View website to get a preview of how your website will look. You can then click Publish website to publish your website so you can start accepting bookings.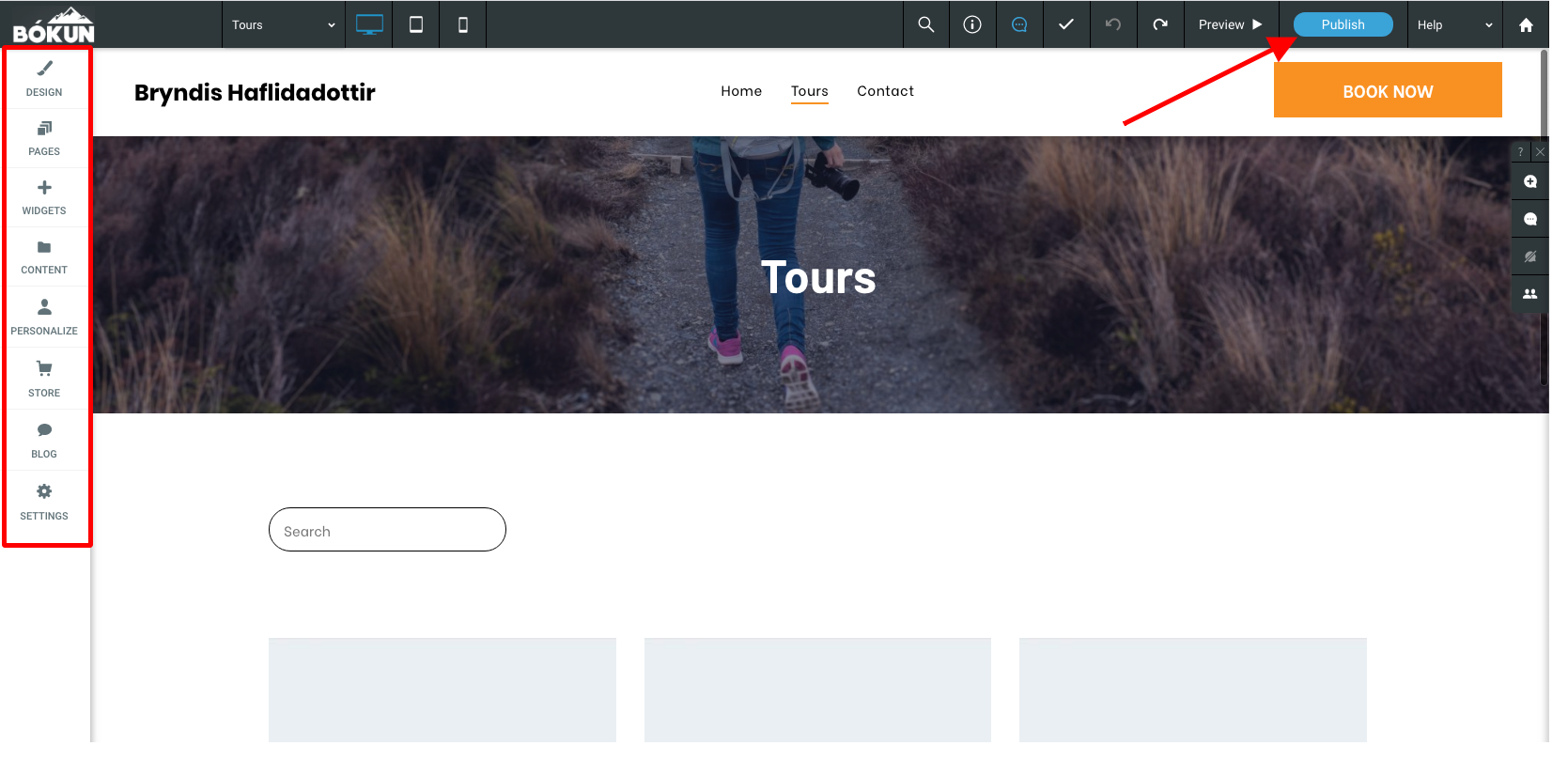 Here is a short video tutorial to get your website up and running:
Advanced website upgrade​
For additional customization, you can add the Advanced Website Upgrade app to your subscription. Try it out, if you're on PRO the adanced website upgrade is free! That gives you access to edit every part of your website, features, colours, elements, etc. You can also activate your website so it becomes accessible for your customers, and they can start booking your experiences.
Here's a video offering an overview of the Advanced Website Upgrade:
How do I edit the settings for my website?​
Navigate to Sales tools > Websites in the left-hand side menu.
Here you can access and edit the below settings:
Listed products: choose the products you'd like to be available on your website. If you disable Display all products on my website you can choose the product list you want in the drop-down and click Save & Continue. A product list is a list of specific experiences that you want to group together. Learn more about product lists here.

Business information: add business information on your Bókun website. Add your website name, slogan, logo and About us text to display.

Contact information: your customers are going to want to get in touch. Add your phone number, email, street address and a greeting to display in your Contact us section of your website.

TripAdvisor reviews: TripAdvisor connection allows your Bókun website to display the reviews from TripAdvisor profile. The connection can also automatically get information like "About us" to use on your Bókun website. The Advanced Website Upgrade app gives you the opportunity to add a TripAdvisor Reviews widget

Social connections: you can connect your social media accounts to your Bókun website so that customers can be further inspired by your social media content. Simply add links to your Facebook account and your Instagram account.

Domain settings: this is where you can edit your website domain. You can either:

Search for your ideal web address and choose a NEW domain name for free through Bókun. This tool is powered by GoDaddy and PRO subscribers can claim 1 (one) free domain name. Learn more here

Use your existing website domain, if you already own your domain name.
How do I activate my website?​
1. Navigate to Sales Tools > Websites in the left-hand side menu.
2. Click Publish website to publish your website so you can start accepting bookings.
3. Once you've published your website, you can access it by clicking the URL below the title Your website.
You can now share your webpage with your travelers and start receiving bookings!
Bookings on your website​
Bookings that come through your website appear in the Bókun Sales Feed like all other bookings. They include the name of your new website so you can easily see which bookings are coming through your brand-new website.
Related articles​
How to connect your domain to your Bókun website
How to connect your Domain.com domain to your Bókun website
How to connect your NameCheap domain to your Bókun website
How to connect your GoDaddy domain to your Bókun website Bókun Apps: What they are and how to manage them