Manually connecting Viator Products to Bókun
Viator allows you to manually manage product mappings. This article shows you how to connect, or even disconnect products.
Bókun is both a Tripadvisor and Viator Preferred Partner, allowing you to fully integrate with Viator and Tripadvisor Experiences.
Why should you connect your Viator account to Bókun?​
It allows you to effectively manage your bookings and products and decrease your booking cancellation rate. For example, if a traveler is looking at your products on Viator, they'll see your availability and pricing from your Bókun account. Once they've booked, the booking information will be sent to your Bókun account, which will update the availability of all your connected channels automatically.
Auto-import feature​
We highly recommend that you use the Auto-Import feature to save time and effort.
With the Auto-import feature all products get automatically imported into Bókun. It ensures that all additional products that you add on Viator after the first import, will be automatically imported and connected to your Bókun account.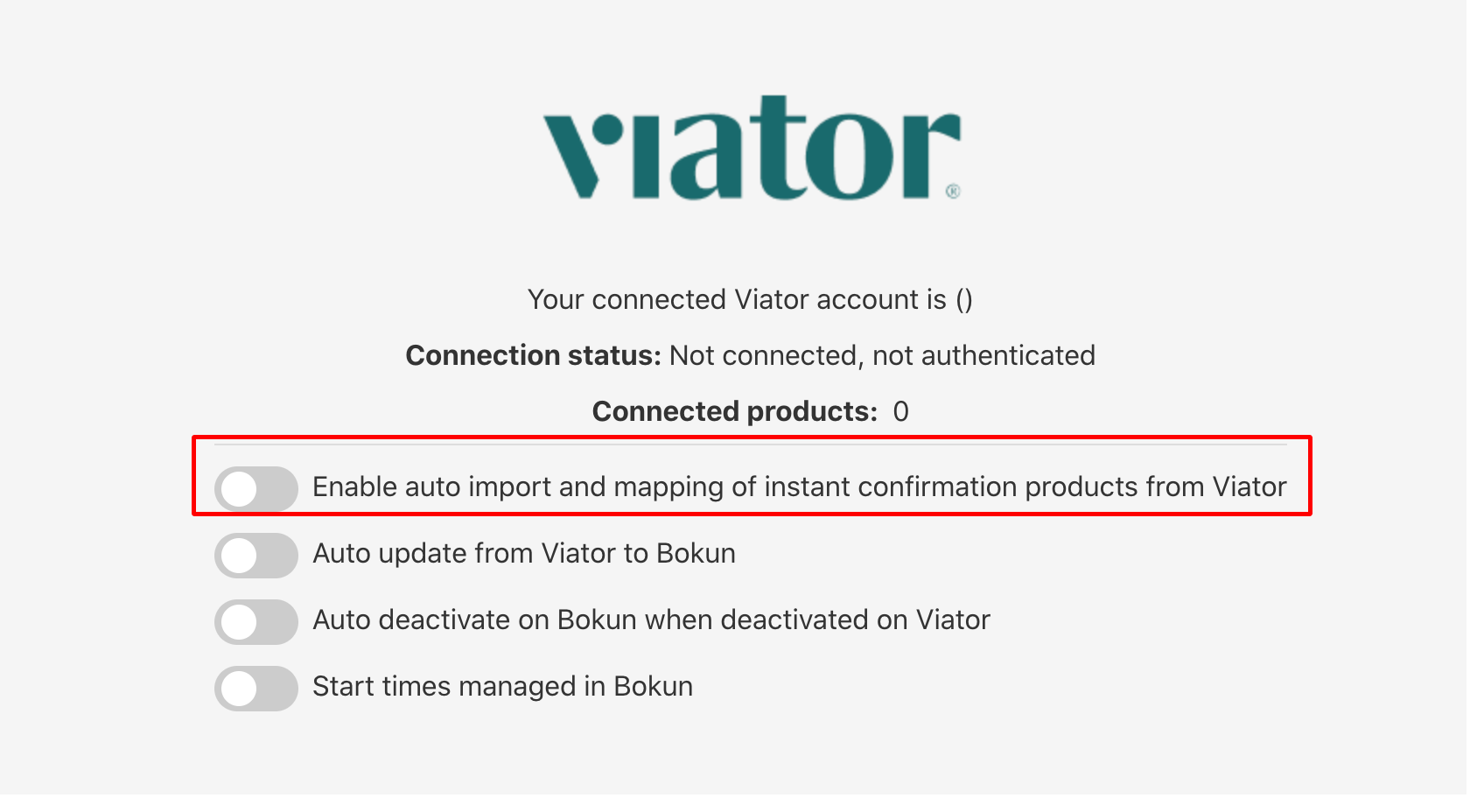 How to manually map Viator products to Bókun​
If you would rather manage the mapping yourself, you can follow the below instructions.
Before you start manually mapping Viator Products to Bokun, please note:
Your Bokun account has to be connected to Viator. Manage your Viator Connection here.
Manually mapping a Viator product to Bokun requires the product to exist on both sides. If the product is missing from Bokun, you need to create it first.
Make sure the Viator auto import tool is turned off in order for your mappings to stick. If you don't, the Auto Importer will overwrite your mappings within 24 hours.
Managing your product mappings on Viator​
Below you will find a step-by-step guide on how you manage your Viator Product mappings.
Log in to the Viator Management Center.
Click the Products tab
Click Manage next to the product you wish to update
Go to the Product Connection tab on the product
Click Edit next to the Product Option you want to connect to your reservation system
This will open a list of the options in your reservation system. From the list, select the corresponding product from your reservation system
If there are additional options for your product, repeat these steps to select the other options
Click Connect once all options are selected
More details on Viator's helpdesk.