Bókun Apps: what they are and how to manage them
This article will explain what apps are and how you can manage them through your account.
Bókun is open to collaboration within the industry to bring together all the tools and technology you need for your business. Learn more about the App Store here.
What are Bókun PRO Apps?​
An app is an additional feature or service you can add to your Bókun PRO plan to help you run and grow your business more effectively. This could be a mobile app, like our Bókun Mobile app, or an app to install to your Bókun account.
With Bókun PRO, you have access to the Bókun App Store where you can find additional features and services to help you drive revenue.
Using Bókun FREE?​
Upgrade to Bókun PRO today, learn more here.
Which Apps can I choose from?​
Please see a full list in the App Store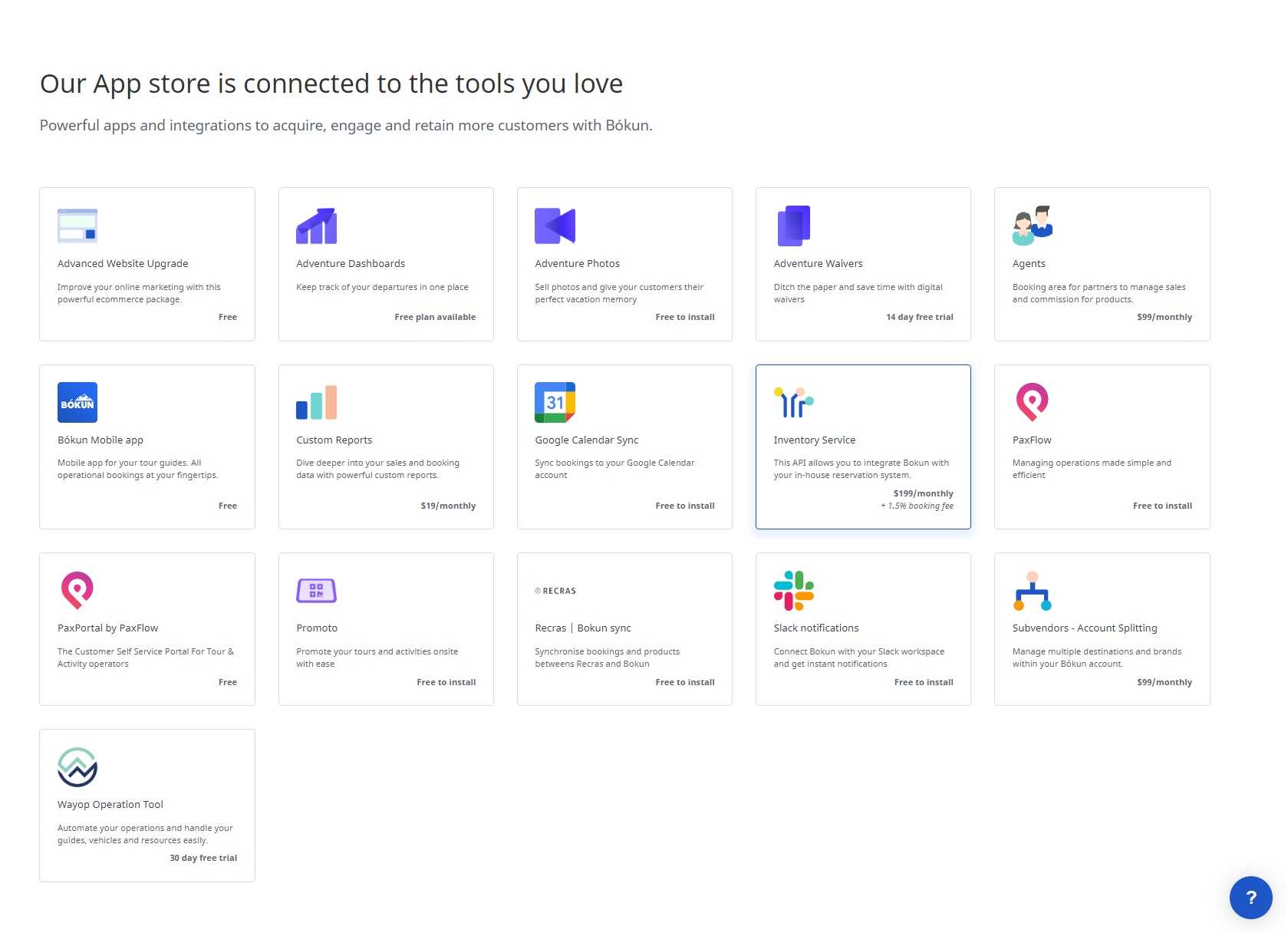 Advanced website upgrade​
The Bókun PRO plan includes a booking website which is a fully responsive website, hosted by Bókun, to feature your brand and products. It consists of the fundamentals, your Home page that features your business and mission, a Tours page that allows travellers to book your products and experiences online, and a contact page, so your customers can get in touch with you.
However, if you want to push your business to the next level, you can opt in to our Advanced website upgrade. This allows you full customization to tailor your website to your business, create unlimited pages or even add a blog. In addition, you can also create and sell gift cards, as well as upsell products at checkout with our website or widget as part of this upgrade.
The Advanced website upgrade App is FREE of charge in the Bókun App Store.
Adventure Dashboard​
With this third party app, you can view booking numbers, number of available seats, seat occupancy all in one view and it allows you to display data from Bókun on a wall monitor for better monitoring.
Adventure Photos​
This is a third party app and platform that pairs tour operators with photographers so that you can sell photos and increase your profitability. Browse photographers on the platform or invite those photographers you worked with to join. After taking photos of your customers, the photographer uploads the images and chooses participants which are automatically imported from Bókun. Customers receive a notification, preview automatically watermarked images, and select and purchase the photos they want.
Adventure Waivers​
This is a third party app that allows you to setup waivers for each individual product to be sent out after each booking. For $99/monthly you can create your custom forms and schedule emails to customers for use on all devices.
Agents​
Booking agents are resellers, who are external to Bókun and your organization, and have access to your Bókun product inventory so that they can make bookings on your behalf. Usually, booking agents are people or companies that you currently work with, and they do not have an account in Bókun (e.g. local travel agency).
For $99 per month, you can offer your agents a simple-to-use booking area where they can sell your products, and you can track sales and commission.
Bókun Mobile App​
The Bókun Mobile App makes it easier than ever for you to manage your day-to-day operations, even when you're away from your computer. For example, you will have the possibility to manage your passenger lists, pickups and check-ins with ease all right from your smartphone.
The Bókun Mobile App is FREE of charge in the Bókun App Store. Take a look at our article about the Bókun mobile app to learn more about what you can do with the app.
Custom Reports​
Reports are a great way to analyse and understand how your business is performing to help you make critical business decisions and increase your revenue. This app allows you to create your own custom reports with our powerful report builder. For example, you can create specific reports on pick up and drop off locations, cancellations, discounts offered. Learn more here.
Enterprise Services​
With Enterprise Services, you will have a dedicated Account manager for tailored and consultative services specific to your business needs for $249 per month. Services include dedicated support for your API integration, web hooks, Google Analytics and many more.
To learn more about this service or custom support, please contact support@bokun.is.
Google Calendar Sync​
The Google Calendar App offers you the ability to add an integration between Bókun and Google Calendar. Bókun sends all bookings to Google Calendar in your Google account, so you can stay up to date with your upcoming departures.
The Google Calendar Sync app is FREE of charge in the Bókun App Store.
Developer API & Inventory services​
API is the acronym for Application Programming Interface, which is a software intermediary that allows two applications to talk to each other.
You can integrate Bókun directly with your in-house tools and other software products with our powerful API and web hooks for $199 per month.
Take a look at our article Using Bókun's API and web services to set up an API connection. If you'd like to learn more or want to discuss this app with our team, please contact us on api@bokun.is.
PaxFlow​
PaxFlow can help you manage all angles of your operation in one place and delight your customers. Crafted by Tour Operators, PaxFlow's focus is on providing the tools to automate and optimize back office administration to save time and money.
PaxPortal​
A fast and flexible customer self service portal used by tour operators across the globe to save time, offer 24/7 customer support, enhance customer satisfaction and grow their business. PaxPortal is a plugin for your booking system, its a two-way integration which means all changes made by your customers using PaxPortal are updated in your booking system too.
PaxPortal app costs $49/monthly and has 7 days free trial. If you have subscribed to Bókun PRO, PaxPortal is free.
Promoto​
The Promoto App offers you the ability to show a slideshow of your products along with QR codes travellers can scan to book your tours immediately. The availability is updated live, so you eliminate the risk of overbooking.
Slack Notifications​
The Slack App offers you the ability to add an integration between Bókun and Slack. Bókun sends all bookings and notifications to a dedicated Slack channel in your Slack account, so you can stay on top of things.
The Slack Notifications app is FREE of charge in the Bókun App Store.
Subvendors - Account Splitting​
For $99 per month, you will have the ability to manage multiple companies within a single account, and it is useful if you operate different products in different destinations or under separate companies.
Wayop Operation Tool​
Wayop helps tour and activity operators to improve and streamline their daily operations. Wayop aggregates automatically all your bookings in a single place and offers a simple yet customizable interface to handle resources (guides, 4x4, ATVs...), add comments and bespoke statuses in order to efficiently manage your tours.
Get started with a 30-day free trial and then for only $49/monthly or $530/yearly by navigating to the App Store in the left-hand menu of your account.
How can I add and manage Apps?​
All apps can be purchased any time through your Bókun account. To manage them, simply click Settings in the bottom left corner and then click Account and billing.
Alternatively, you can access them through the App Store tab.
✴️ Note that you must be an admin user in your Bókun account to be able to add an app. If you're not an admin, you will receive the "You are not allowed to install apps" error, and must ask an admin to install the app. Learn more about user roles [here](/docs/settings/your-account/User roles/user-roles.md).
How do I pay for Apps?​
Each app will be added to your monthly subscription and will be automatically charged on the payment method you've selected in your Account. To check which method you've set up, head over to your Account & Billing section.
The cost of the app will be charged on the day of subscription and then every subsequent month. If you decide to cancel, you will have access to the feature until the end of the month in which the cancellation occurred, and no refund will be given.