Custom Reports
Reports are a great way to analyse and understand how your business is performing to help you make critical business decisions and increase your revenue.
What can you do with Custom Reports?​
This app allows you to analyse and understand your customers and create your own custom reports with our powerful report builder. For example, you can create specific reports on:
Users: suppliers, affiliate, agents, and sellers
Bookings: booking confirmations, combo bookings, parent bookings, customized bookings, external booking code, name, reference, booking fee and total participants, channels, payment type, total price paid, resold, creation date
Products: box products, combo products, parent products ID and titles, product's start date, start times and customized star times, status
Cancellations: cancellation date, cancelled by, cancel note, refund protection fee
Customers: email, ID, name, nationality, phone
Price and Discounts offered: customized price, discounts by amount and percentage, promo codes, pricing categories, currency
Locations: pick-up and drop-off locations
Notes: finance, cancellation, operation or general notes.
How do I get the Custom Reports App?​
In your Bókun account, click App Store in the left-hand side menu. Click Custom Reports > Install App. You can find further information on how to manage your Apps is here.
Does the app cost anything?
The Custom Reports App is a separate Bókun App within the App Store. Bókun PRO users can add the Custom Reports App to their subscription for $19 per month.
How to create a custom report​
To create a custom report:
1. Click Reports > Custom Reports in the left-hand side menu in your Bókun account.
2. Click Add in the right-hand corner.
3. Select Activity_bookings.
4. Select the type of information you want to be shown in the report. Complete the following fields:
Title: Select a descriptive title for your report

Column: Select the information you want showing in your report from the drop-down list

Filters apply the criteria immediately to your report when it is generated

Dynamic filters allow you to do the filtering within the report itself and change the criteria as you view it

Sorting column: Select what you want to sort your report by

Sorting order: Select whether you want to sort your report in descending order or ascending order
5. click Save and go back to your list of custom reports.
You can now generate your custom report by clicking it in the list.
Once opened, you can click Export to spreadsheet to generate an Excel document containing your report.
If needed, you can make changes to your report by editing your report under Edit report configuration or delete it by selecting the red rubbish can.

Examples
Here's an example of a custom report for a pick-up location. Let's say you would like to know how many participants you've picked up at the Oasia Hotel.
These are the settings needed:
Columns are TOTAL_PARTICIPANTS, PICKUP_PLACE_TITLE and CREATION_DATE
Filter is PICKUP_PLACE_TITLE is Oasia Hotel
And this is the report: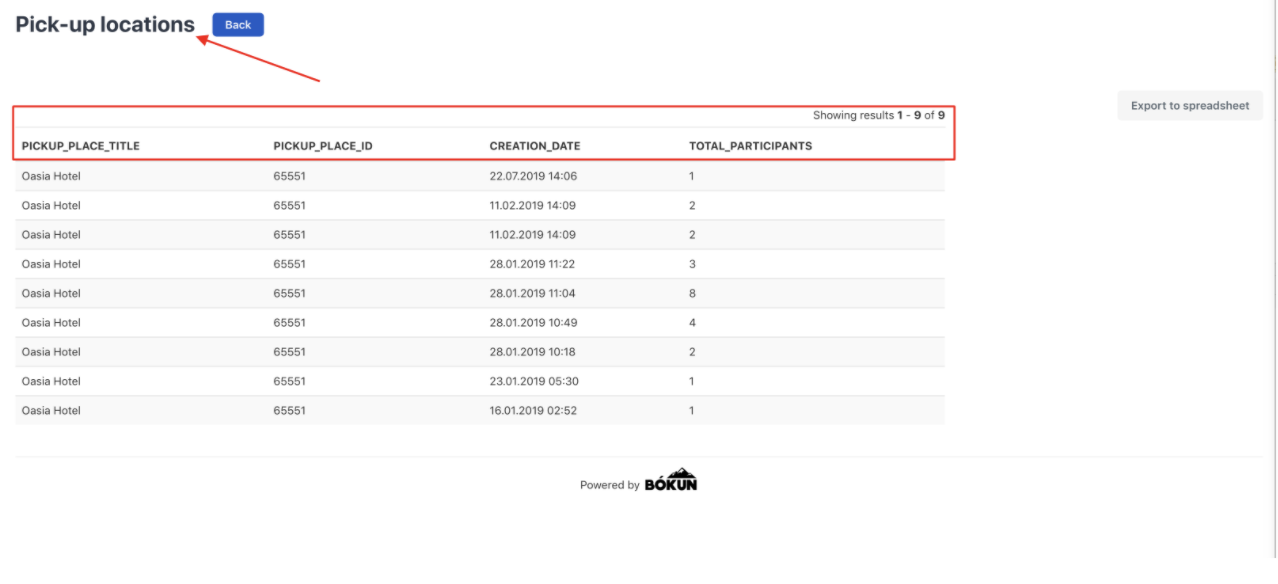 Here is an example for booking questions. Let's say you want to show the booking questions you've added to a specific product and the answers provided by your customers during the booking process:
Select QUESTIONS_ANSWERS or QUESTIONS_ANSWERS_SPLIT
Enter it in the columns fields as shown in the example below: