How to connect your domain to your Bókun website
This article takes you through the steps of connecting your existing domain to your Bókun website.
What's a domain name?​
A domain name is the text that a user types into a browser window URL to reach a particular website. For instance, the domain name for Bókun is 'bokun.io'. The actual address of a website is a complex numerical IP address (e.g. 103.21.244.0), but thanks to DNS, users can enter domain names and be routed to the websites they are looking for.
What's DNS?​
DNS means Domain Name System. It's kind of like a phone book on your mobile phone. Whenever you want to call somebody, you have to either dial their telephone number from your memory or search the contact name in your phone book for their number.
Similar to the phone numbers, the internet uses a bunch of numbers to uniquely identify a device connected to it. This collection of numbers is known as an IP address. DNS is a process that maps these IP addresses into domain names to make it easier for the users to enter a domain name instead of an IP address.
How do I get a domain?​
If you don't own a domain yet, you can search for your ideal web address and choose a NEW domain name for free through Bókun. This tool is powered by GoDaddy and PRO subscribers can claim 1 (one) free domain name. Learn more here
How do I connect a domain​
If you already have a domain from Domain.com, NameCheap or GoDaddy​
If you're using one of the above, you can follow our tailed step-by-step guides below:
How to connect your Domain.com domain to your Bókun website
How to connect your NameCheap domain to your Bókun website
How to connect you GoDaddy domain to your Bókun website
If you're using a different provider​
If your domain is purchased with a different provider, go to the DNS management page within your domain provider account.

(Please note that the above example taken from Woktron. Please note that this may have a different name, depending on the provider).
If you need help finding your DNS management page, we recommend you visit your providers' help centre. Most domain providers have helpful instructions specific to their platform, alternatively, you can contact your providers customer service and request the information below to be added to your DNS.
Tip: We recommend taking a screenshot or writing down the current values in your DNS management page as a backup, before entering the new details below.
The below details are values from Bókun you'll need to enter into your DNS management page (within your domain provider account) in order to connect your Bókun website to your existing domain.
Record 1:
Type: A
Host/Name: @
Value/IP address: 35.172.94.1
TTL: Automatic or 1 hour (or 3600)
Record 2:
Type: A
Host/Name: @
Value/IP address: 100.24.208.97
TTL: Automatic or 1 hour (or 3600)
Record 3:
Type: CNAME
Host/Name: www
Value/IP address: sitename.bokun.website
TTL: Automatic or 1 hour (or 3600)
Please note: If you receive an error whilst entering in Record 2, stating it is the same type, please skip record 2 and enter in just record 1 & 3.
Here is an example (screenshot is taken from GoDaddy):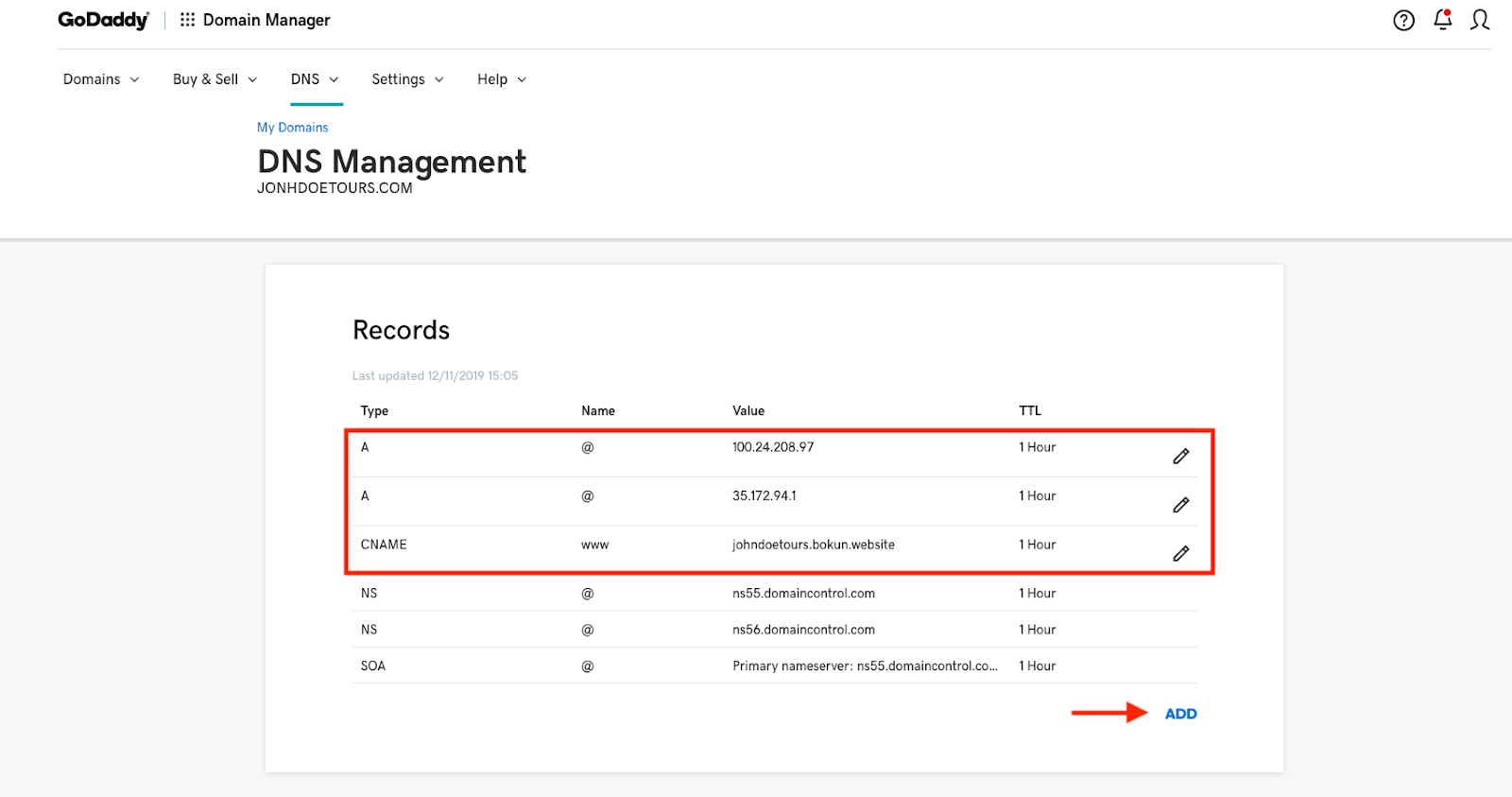 Not sure who your domain provider is?​
You can enter your domain URL (your website address) into the search bar on this website. This will tell you who the domain registrar is (domain provider), when this was registered and when this is due expire.
Domain connected but it's still not working?​
Once connected it can take up to 48 hours for this to reflect correctly. If it still isn't live after that period, you can also check that the details are correct under whatsmydns.net.
Here you want to check that the IP address is showing correctly, this should be: 100.24.208.97
If the IP address listed doesn't match the one above, you'll have to follow the steps again to ensure that this has been entered correctly. Contact your domain provider if you continue having the same issue.