Pick-up list
Pick-up lists show all passenger who have ordered a pick-up and which hotels/locations they will be staying at.
Pick up lists are useful to help you organise your day-to-day pick-ups. They show all the passengers who have ordered a pick-up and where they'll be staying at.
The list enables you to filter by departures, pick-up places and tours and allows you to assign your drivers to pick-up places. It gives you the flexibility to easily customise the pick-up lists for each of your drivers/guides.
Select Operations > Pick-up list.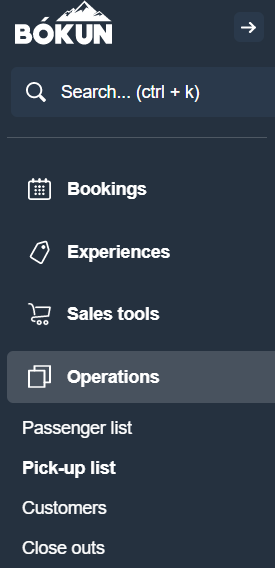 The pick-up list shows all the pick-ups for the day by default, organised by departure times and pick-up locations.
You can customise your pick-up lists, e.g. only show pick-ups for selected hotels at a selected departure time. To customise the list, use the drop-down lists and the filters to select what information you wish to see.