How to set up agent sign-up links (PRO)
Allow agents to sign up as your agents. You create a link, add to your website or bring to conferences and the agent signs up.
You can create a sign-up link for Booking Agents where they can create a login and password to get access to your products.
When you create the sign-up link, you can decide if the agent should be confirmed automatically, which means he can start booking right away, or if you want to manually confirm the agents before they are able to book.
This allows you to add e.g. a sign-up link to your website for interested agents. You can take a sign up link with you to conferences or other industry events and have a quick and easy signum for those who are interested.
How to set up a sign-up link​
You need to create booking agent terms that you'll assign to the sign-up link before continuing. Here is information on how to set up agent terms.
Select agents > Booking agent signup on the side navigation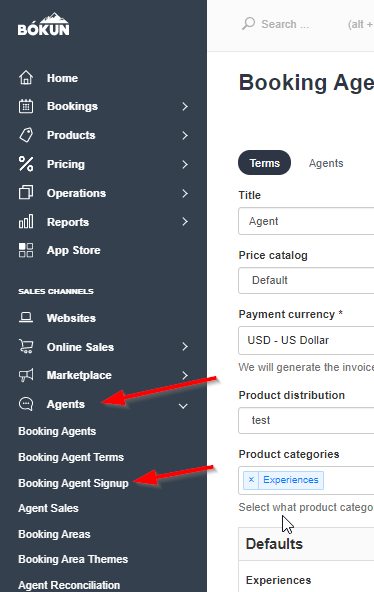 To create the sign-up link, fill in the form that appears on the screen.
Active: check this box to activate your sign-up link.
Auto approve signed up agents: If you check this box, your agent sign-ups will be automatically approved and the agents can create bookings right away. If you do NOT check this box, you will get a notification when an agent signs up and you have to manually confirm the agent before he can start making bookings.
Title: add a title for the booking agent
Theme:
Online contract: Select the Agent Contract Term you would like to apply to all self-signed up agents. Please note that the agent term can be changed later on.
Account Manager: Your company's contact person for your agents who will receive notifications when new agents sign up. Admins and users who have "Manage Booking Agent Account" can be account managers.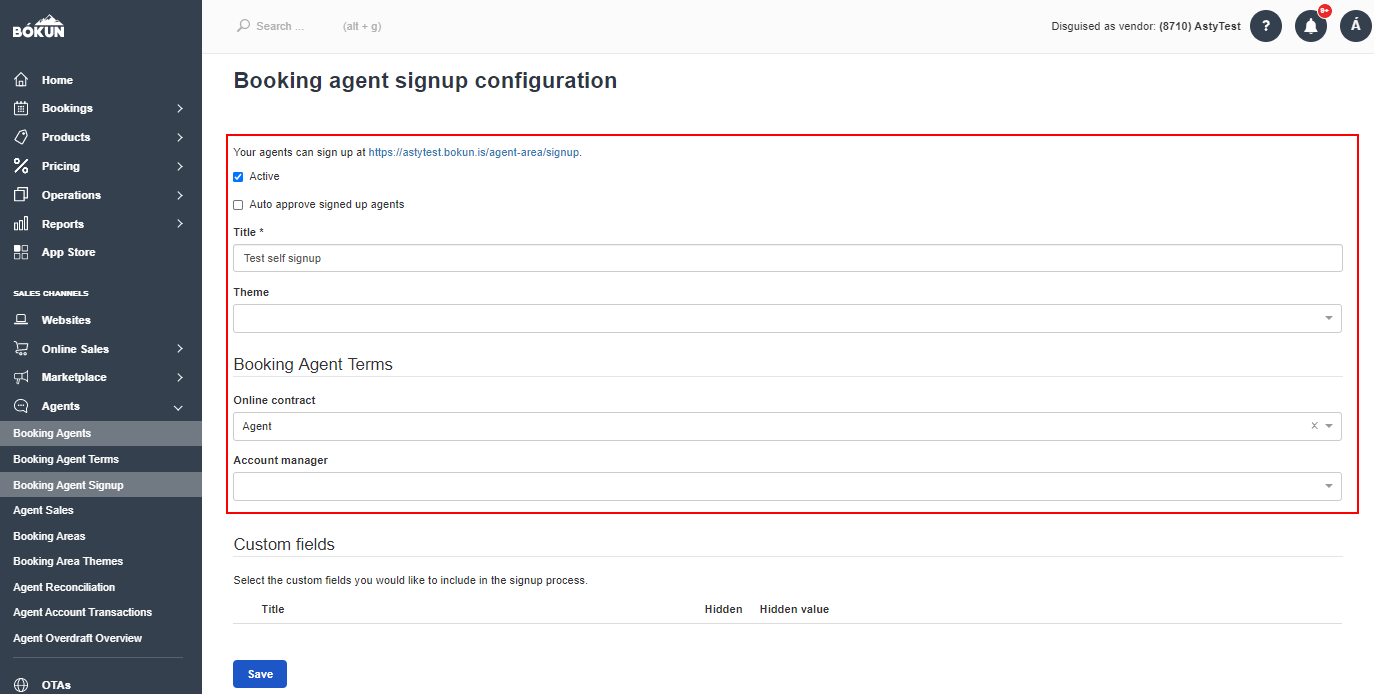 Click Save to receive the booking agent sign-up URL you can share. The link will appear at the top of the page: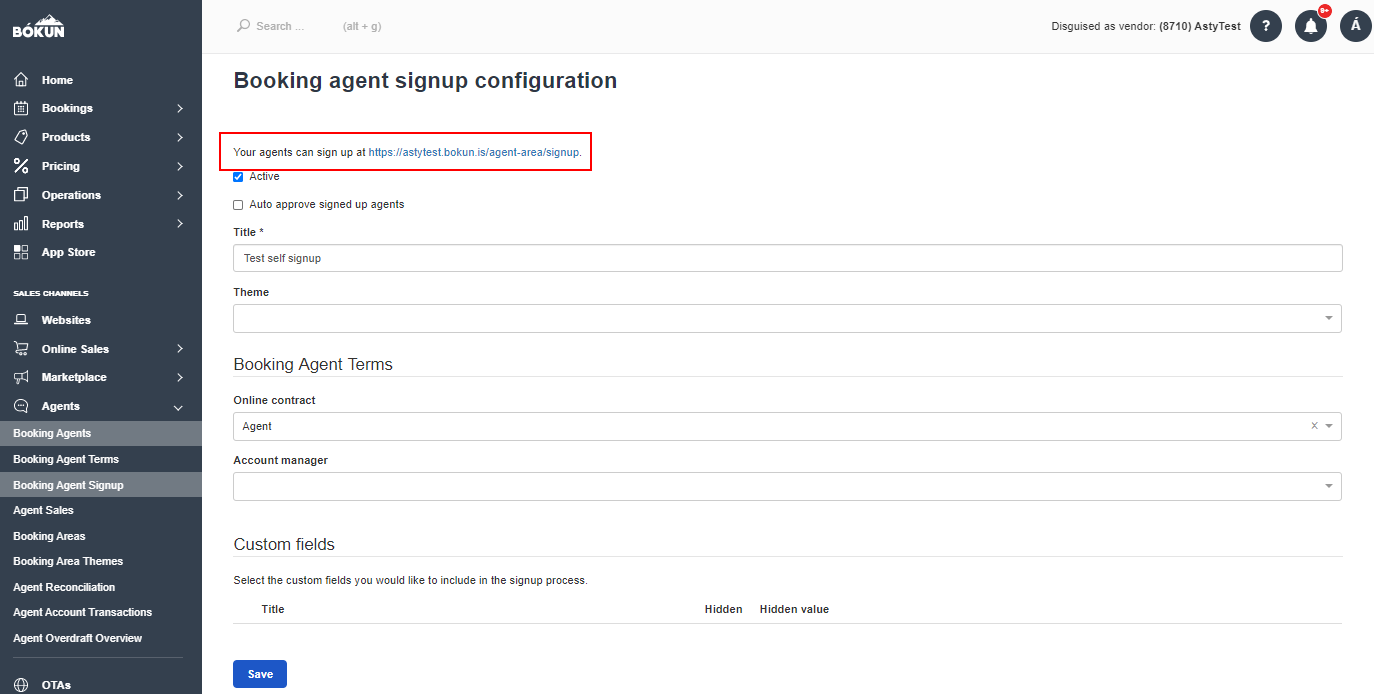 How does the sign-up look to the agent​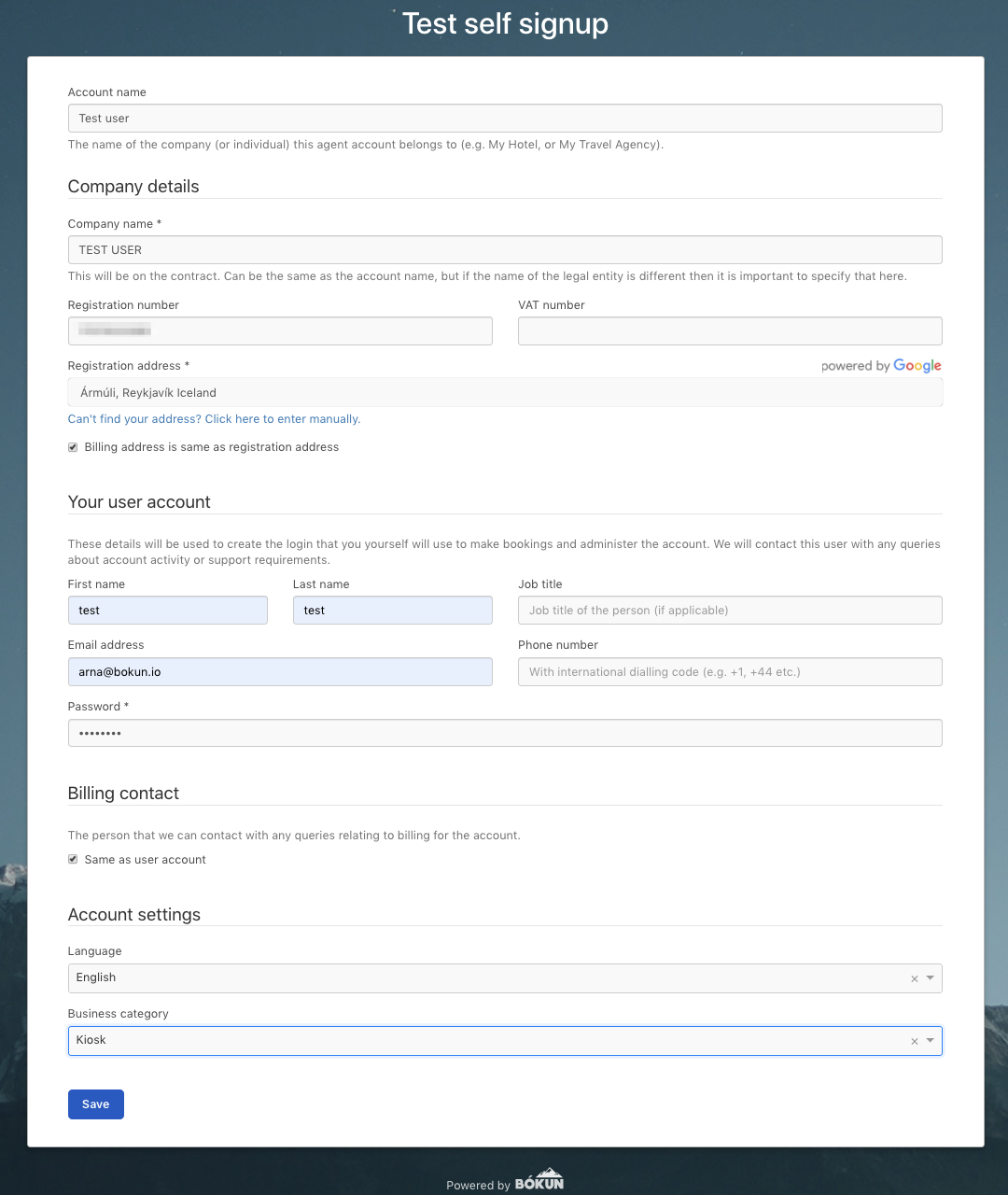 What happens after signup?​
After the booking agents complete their sign up, they get different confirmations depending on whether they have been automatically confirmed or if they are manually confirmed by you.
If you auto approve the booking agents, they will receive an email where they need to confirm their account before logging in.
If the booking agents are manually approved by you, they get a message saying they'll receive an e-mail when you have approved their sign-up. After you manually approve, they will receive an e-mail where they will have to confirm their account before logging in.
What do you need to do when you receive a sign-up​
You only need to take action when you need to manually approve agents.
The account manager for booking agents will receive an e-mail about the agent sign-up. You'll get a notification balloon letting you know there is a contract you need to take a look at.
Select Agents > Booking agents. There should be a red notification by the Booking Agents.
Select Pending to see the name of the Booking Agent you need to either approve or reject.

Select the agent name and either approve or reject their application.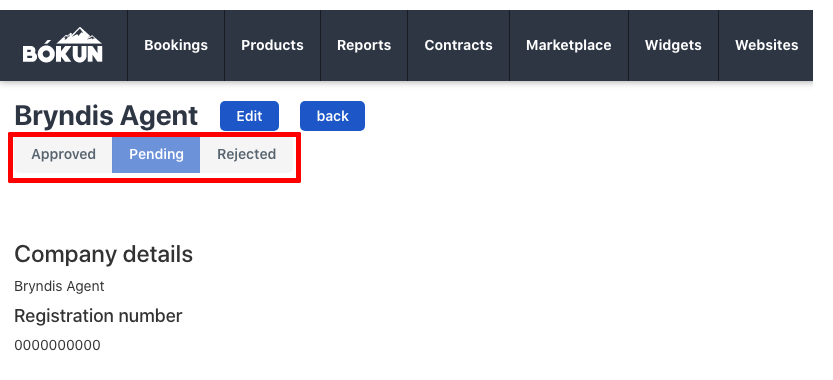 You can edit the agent on this same page, add new terms and edit all information.