How to configure Google Analytics E-Commerce tracking
Get to know your customers by using Google Analytics
You can integrate Google Analytics Tracking codes into your booking process to gather data on your customer's behaviour.
Bókun has built-in integrations to:
E-Commerce tracking, allows you to track the numbers of transactions and calculate conversions.
Enhanced E-Commerce Tracking allows you to track the booking process, what products were added to the shopping cart, updated and deleted from the cart etc.
Integrating the Google Analytics Tracking Code allows the widgets to have access to the campaign parameters from the parent site, among others to Google Ads.
Also, it is possible to connect the booking widgets to Google E-commerce Tracking (Read more about it here).
How to connect Google Analytics to your widgets
To connect your E-Commerce tracking to Bókun you need to add your Google Analytics tracker ID code to your booking channel and define your tracking type (E-Commerce tracking or enhanced E-Commerce tracking).
Where do I find my Google Analytics code?
There are two types of Google Analytics properties: "Universal Analytics" and "Google Analytics 4" (you choose the type while creating the property) The steps below are for "Universal Analytics" type. Currently, Bokun does not support "Google Analytics 4".
1. Sign in to your Analytics account.
2. Click All Web Site Data

3. There you can see your Google Analytics ID. It should be in the format of
UA-XXXXXXX-X.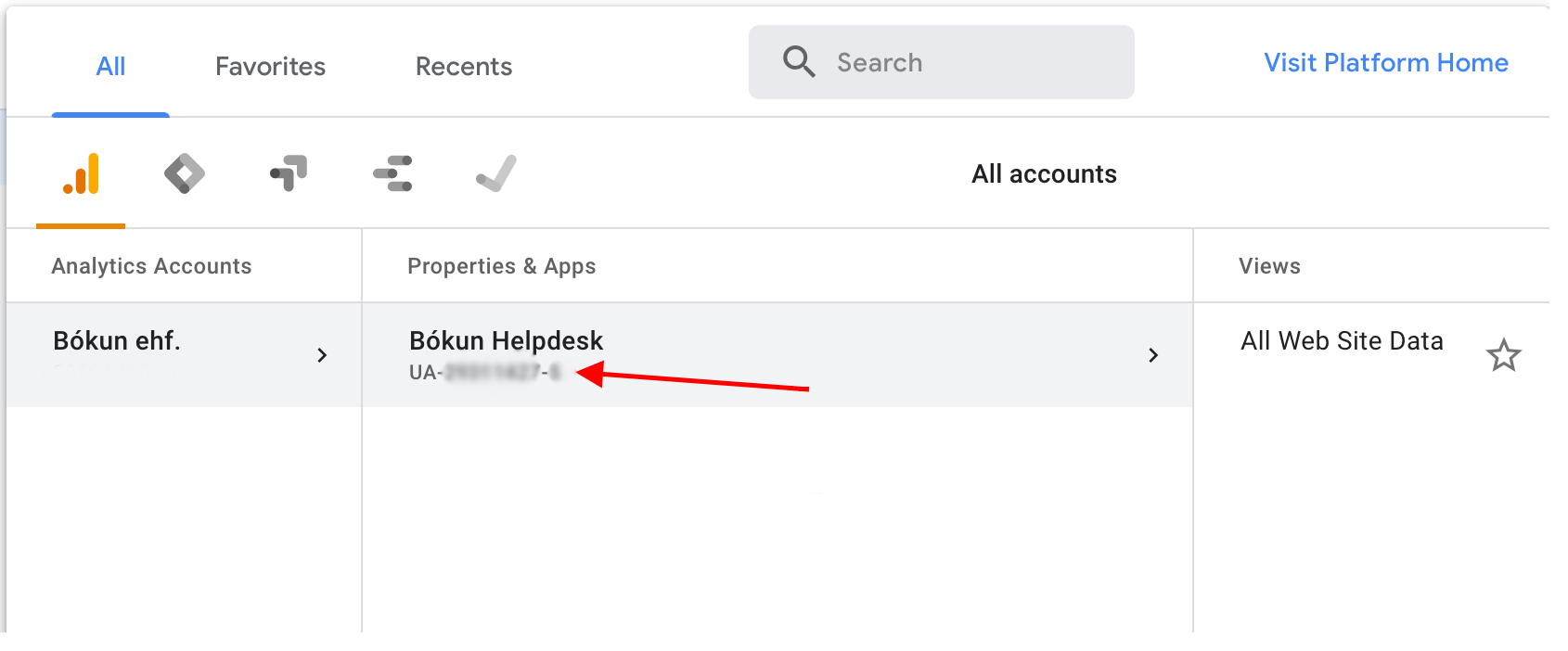 How to connect Google Analytics to your widgets
1. Click Onlines sales > Booking channel from the side navigation
2. Select a booking channel you'd like to add Google Analytics to from the list of available channels.
3. Click Tracking on the left hand side panel. Then enter your Google Analytics tracker ID and select the type of e-commerce tracking. We recommend choosing Enhanced e-commerce tracking. Remember to click Save & Continue.
At the bottom of the page you have the option to add your Google tag manager id. Here are information on How to configure Google Tag Manager tracking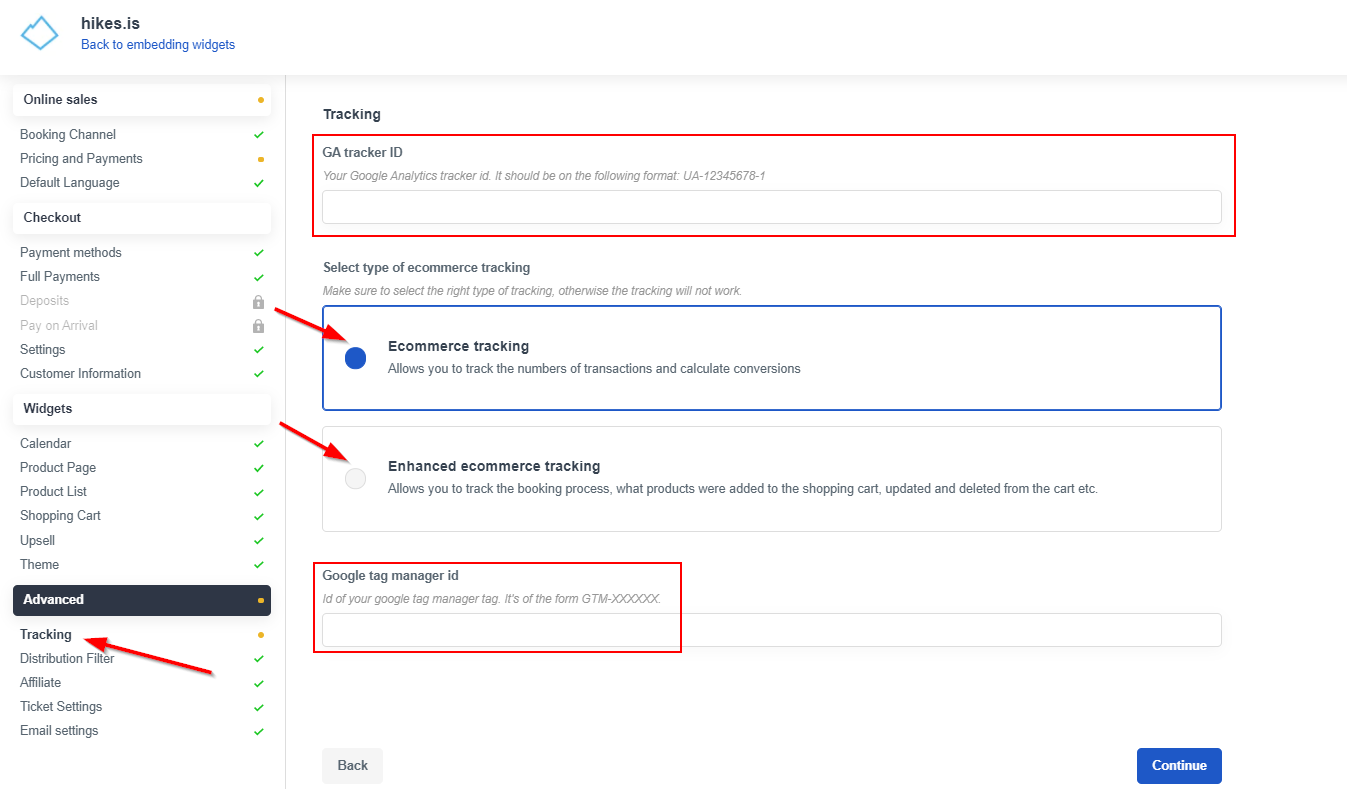 How to enable Ecommerce tracking in Google Analytics#
1. Sign in to your Analytics account.
2. Click Settings icon at bottom-left corner
3. In "ADMIN" tab, "View" section, click "Ecommerce Settings"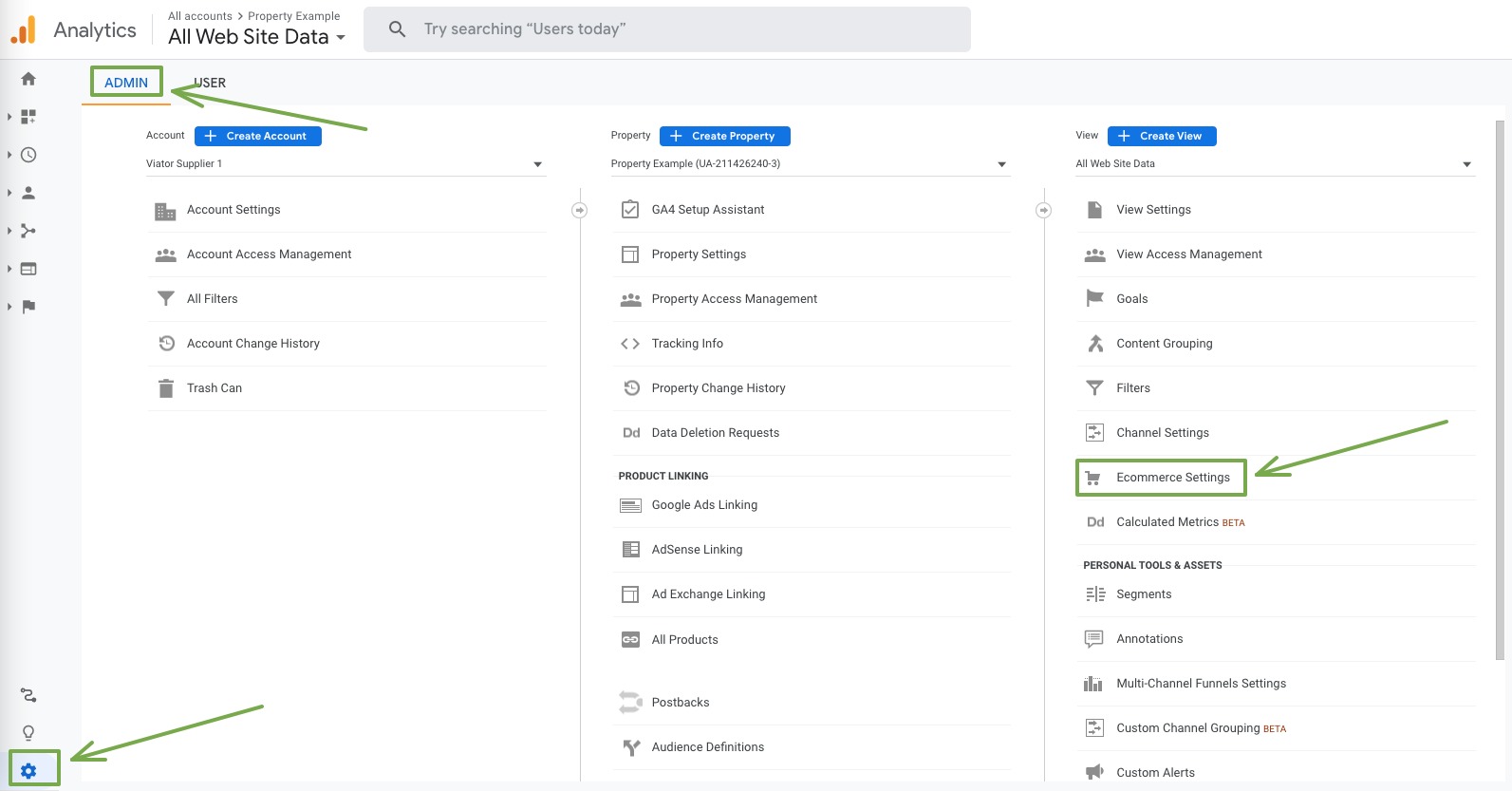 4. Click "Enable Ecommerce", click "Enable Enhanced Ecommerce Reporting", click "Save"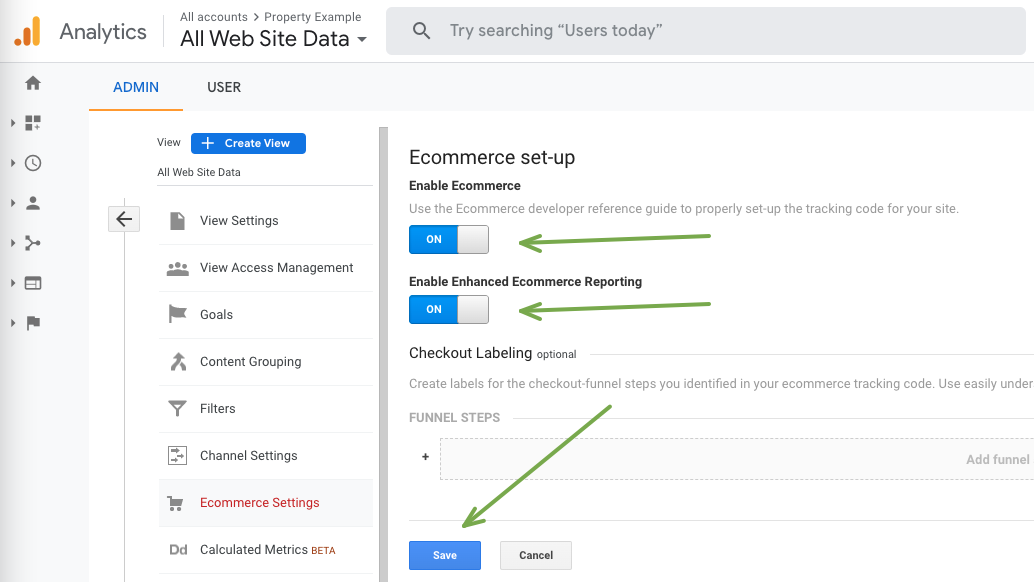 How to use Google Analytics
Below are three videos that show how you can use Google Analytics and Bókun. Google Analytics gives you the tools you need to better understand your customers. You can then use those business insights to take action in Bókun, increasing your distribution channels, connecting to vendors through the Marketplace and adding online booking engines to your website.
Part 1: gives you an overview of where to look at your incoming data
Part 2: shows you have to activate e-commerce tracking in your analytics account if you are not getting any data
Part 3: shows you how to add URLs to your referral exclusion list, so you will be counting and tracking visits correctly
Troubleshooting
To troubleshoot issues with Google Analytics not tracking all bookings, please check the following details in your Google Analytics integration:
That you have entered the correct GA tracker ID in your Bókun account.
That you have selected Enhanced e-commerce tracking in your Bókun account.
That E-Commerce and Enhanced E-Commerce Reporting is enabled in your Google Analytics account.
That you have added the URLs you want to the Referral Exclusion List in your Google Analytics account.
If you have specified both GA Tracker ID and Google Tag Manager ID, please be sure not to add the same GA Tracker ID inside Google Tag Manager. In such case both Bokun and Google Tag Manager will add GA Tracker ID to your pages and they will become duplicates.
Please keep in mind that Ad blockers is the most common reason why some bookings are not tracked. Users enable Ad blockers in their own computers so Bókun can't troubleshoot this.
Related articles