How to Translate Content to a Different Language
This article explains what content can be translated, and how to translate content in Bókun
What information can I translate in Bókun?
You can translate all product content.
Why is it a good idea to translate content?
If your website is available in multiple languages, and you would like to add an online booking engine in each language, we re recommend translating your content.
How do I add different languages to my Bókun account?
You can translate your content in the Translation page by navigating to the Products > Translations on the left-hand side menu:
Note: Bókun does not automatically translate your content to another language, you will have to translate content manually yourself.
How do I add translations for my product content?
Start by selecting the language you want to translate in the Translation languages box. Click into the box to view a dropdown menu or start typing to select your desired language: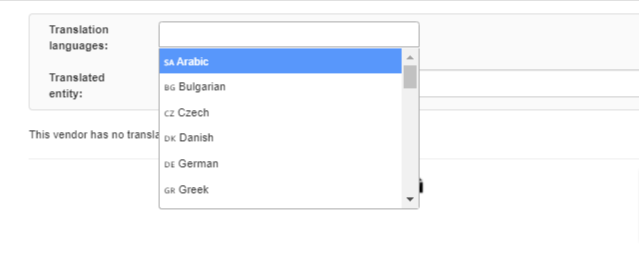 To add multiple translation languages: simply select one language at a time, a tab will appear for each language selected.
Next, select what items you want to translate in the Translated entity box by clicking on the box, a drop-down menu will appear and you will be able to choose what you want to translate.
Enter the translation for each language selected and click save. Please note that there is a tab for each language and there is a placeholder text that will show the original text if no translation is entered.
What are the items that can be translated on the Translations page?
You can translate the following items:
Pricing categories: you can select the pricing category you have created in Bókun:

Vendor: from here you can translate your company name, your Terms & Conditions, and the message of the booking tickets

Product list: to translate product list title and description

Custom Input fields

Experiences: you can choose any experience you have created in Bókun and translate the related content (e.g. title, description, inclusions, what to bring, what should travelers know before they book, keywords, custom messages, exclusion, message on ticket, rate title, etc)