How to create and use cancellation policies
This article explains what a cancellation policy is, how to create one, and how to add it to your experience product
What is a cancellation policy?
A cancellation policy is the amount of money the traveler will not be refunded if they cancel a booking within a given time frame.
For example, 25% will be refunded to the customer if he cancels less than 24 hours before departure of a tour.
What are Enhanced Refund Terms?#
Enhanced Refund Terms allow you to offer your customers alternative refund terms for bookings made on your website. The Enhanced Refund Terms work alongside your current refund policies. Learn more about Enhanced Refund Terms.
Benefits of using Enhanced Refund Terms
Offer Enhanced Refund Terms without risking your own revenue
Extra peace of mind and purchasing confidence for your customers
Create an extra revenue stream and earn 1% extra on every refundable booking
Optimize your customer experience
Boost the traveller purchasing confidence
Provide more competitive refund terms without increasing risk
Drive direct online and advance bookings
Valid refunds on upgraded refundable transactions are all taken care of by Protect Group. You keep the original payment.
How to create a cancellation policy ?#
You can create one or more cancellation policy rules and apply them to each product. To create cancellation policy select Pricing > Cancellation Policies from the side navigation.
Click on the Add new rule button to create a new cancellation policy.
Title: Choose a title for the policy, e.g. "Day tours policy", "Multi-day tours cancellation policy"
Rules: There're four types of rules you can create
Non-refundable
The booking is non-refundable.
Full refund (if cancelled before event happens)
The booking is 100% refundable until the departure of the Experience.
Simple
The booking is 100% refundable until X amount of hours before the departure of the Experience.
Advanced
Here you can add more than one rule to your refund policy. For example, if the booking cancelled with a 10 days notice, the customer pays 25%. If the booking is cancelled with a 5 days notice, the customer pays 50% etc. You add the percentage of the full price amount that the customer does not get refunded if they cancel their booking within the time frame you set.
Tax: If there is a different tax on refunds than on your products, you can set up a new tax rule. Here are instructions on how to create new tax rules.
Remember to click Save before continuing.
How do I add a cancellation policy to my product?
You must add cancellations to each product individually. To do that, go to the product you want to add a cancellation policy to. Select "Products -> Experiences" in the navigation, to find the product.
When you are in the product, navigate to Pricing > Rates in the left hand side menu, and click on Edit to go to rate settings. This will open a window where you can add a cancellation policy.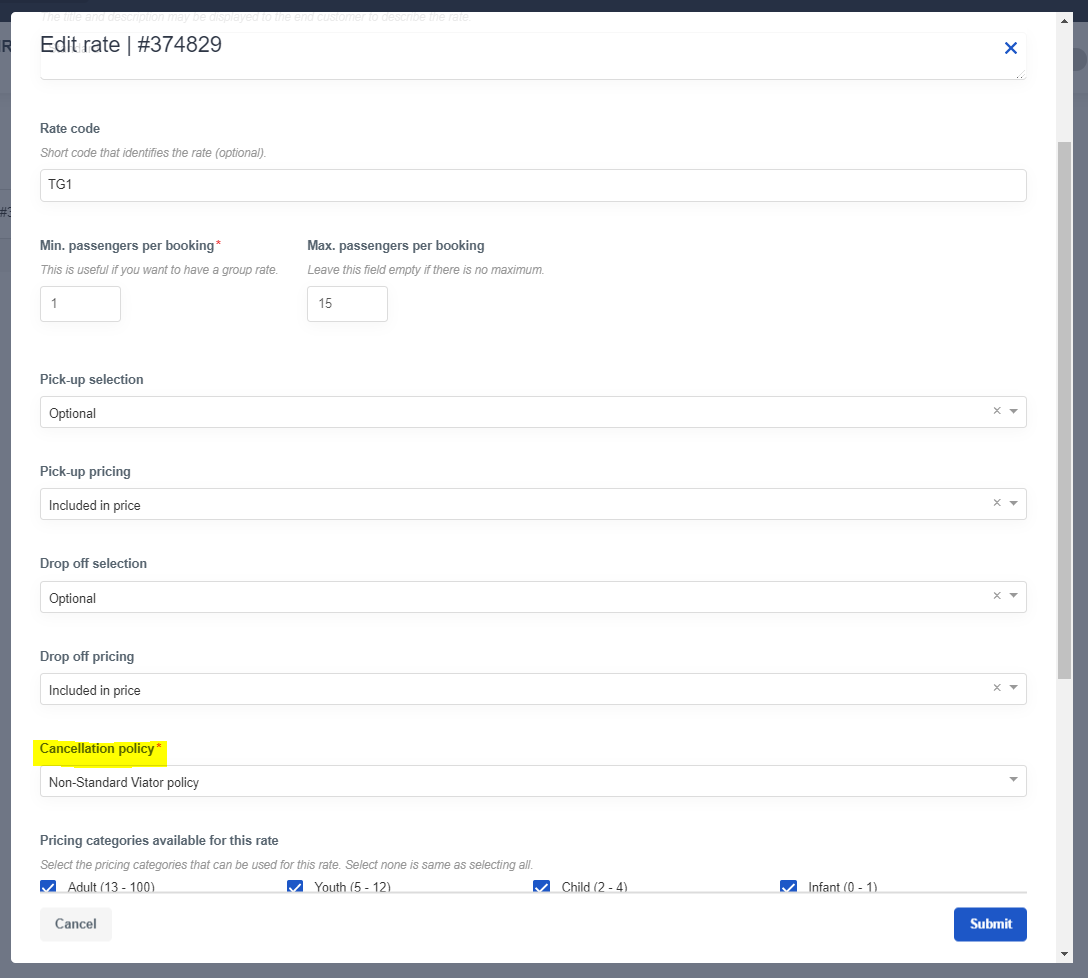 How does the cancellation policy work?
When a booking is cancelled, a new invoice will be created for the booking. The new invoice will show how much the customer should get refunded.
If the total price of the product is $100, and the cancellation policy states that the customer should get 75% refunded, the new invoice will show $ -75, since that is the amount the customer should get refunded.
Note: You must make refunds directly from your payment provider to refund the amount to the customer. Learn more about refunds.
Who can cancel bookings?
The supplier applies the cancellation policies to their products. Resellers can not override the cancellation policies the supplier has applied to their products.
When a reseller cancels a booking from a supplier, the cancellation policy is always enforced.
When the supplier cancels their own bookings, they are able to either apply or not apply the cancellation policy.
Travellers can cancel their own bookings through the Traveller self-service cancellation, if you have it enabled in your Bókun account.
Where does the cancellation policy appear?
The cancellation policies are visible to those booking your products, so they will always know what your cancellation policy is at the time of booking.
Note: If you connect to an OTA like Viator, a cancellation policy is automatically created. That policy will be the default cancellation policy in your account so make sure to double-check which cancellation policy is assigned to your product before you publish them to your website.
Your cancellation policies will appear in the product page widget. Please note that if you haven't added a cancellation policy, this field will not appear.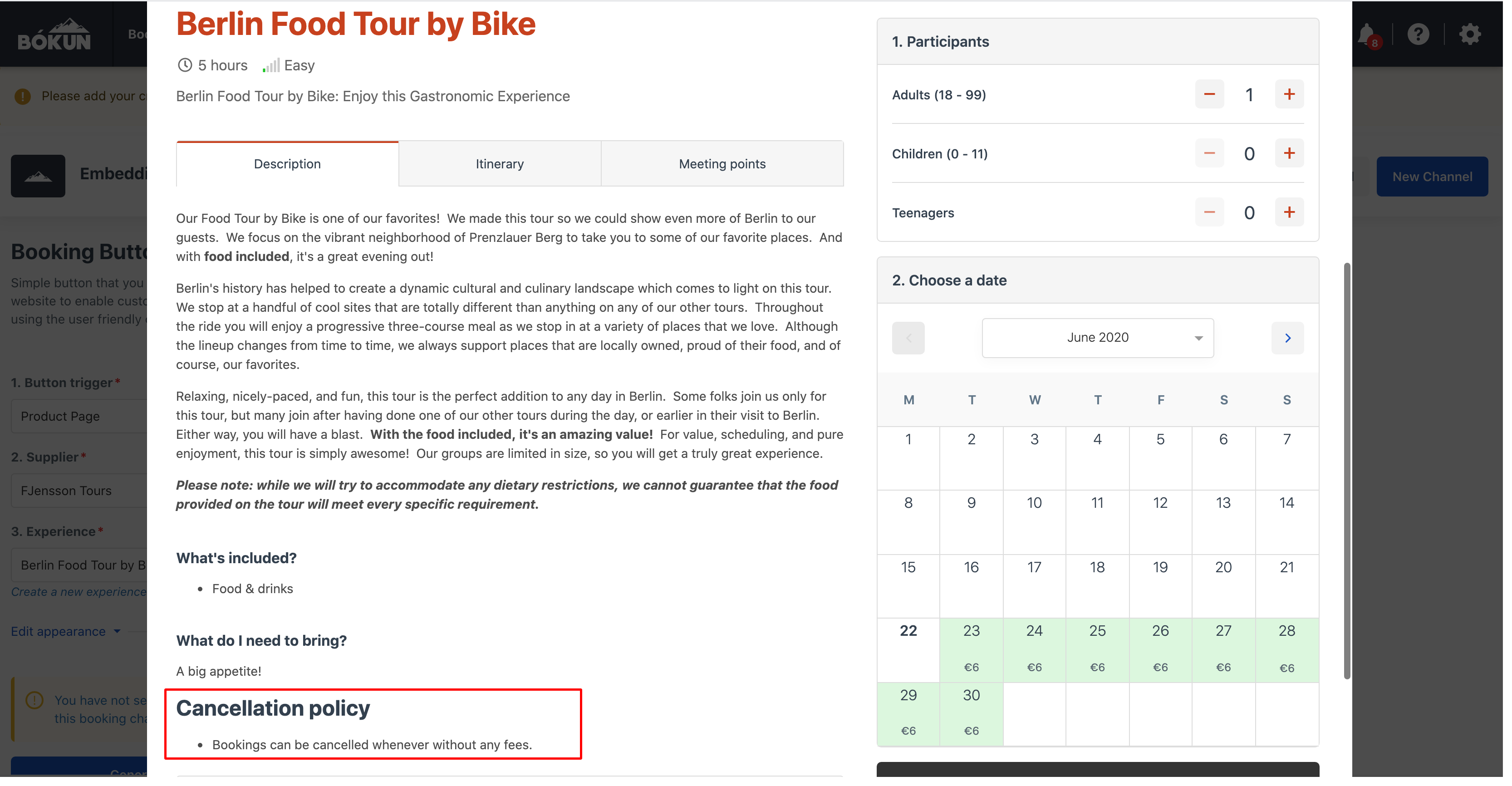 Related articles