How to create Referral Tracking (affiliates)
Add affiliates to increase your product distribution and your bookings.
What is Referral Tracking?​
Referral Tracking is one of three types of re-sellers available in Bókun. They are someone external to Bókun, e.g. a hotel or a blogger who resells your experiences on their website.
Note Referral tracking was named "Affiliates" until 30/09/2020
Using Referral Tracking as a method to increase bookings is very popular in the travel industry. A travel blogger joins your tour and writes a great article about their experience. The blogger reaches out to you and you two decide on a commission in return for an affiliate link that the blogger can then add onto their website. The blogger then earns a commission from all the product sales that take place via the blogger's website.
How does Referral Tracking help me resell my experiences?​
With Referral Tracking, sellers can resell your experiences through an online booking engine you provide them with or by using a tracking code which redirects customers back to your own website for booking.
How do I track my Referral Tracking sales?​
There're two options to see your Referral Tracking sales.
A unique code in URL. Learn more about how to track my referral sales using tracking codes in URLs.
A unique online booking engine. Learn more about how to connect referral tracking code to widgets and give the reseller an on-line booking engine.
You can get an overview of all agent sales by using the Affiliate sales report. You can locate it in the top menu under Reports > Affiliate sales report.
How to set up referral tracking​
Select Online sales -> Referral tracking on the side navigation. Select Add to create a new seller for referral tacking
Fill in the fields and click Save. Title and Commission are both mandatory.
Title: A title for the seller, e.g. the person or company name.
Identification number: For finance purposes, e.g. kennitala in Iceland.
Email address: The sellers email address. This will be used for reporting purposes.
Commission: The sellers commission. This is a percentage.
Tax: If there's a tax you need to apply, choose it from the drop-down. Note that you first must create taxes.
Flags: Flags are API related to link Bokun to an external system. In most cases, ignore this field.
Send weekly reports: Check this box if you'd like to send your seller weekly reports via email. The report includes sales and due commission. The report is sent out on Mondays.
When you click Save, an referral tracking code appears. You can use this code to track your affiliate sales.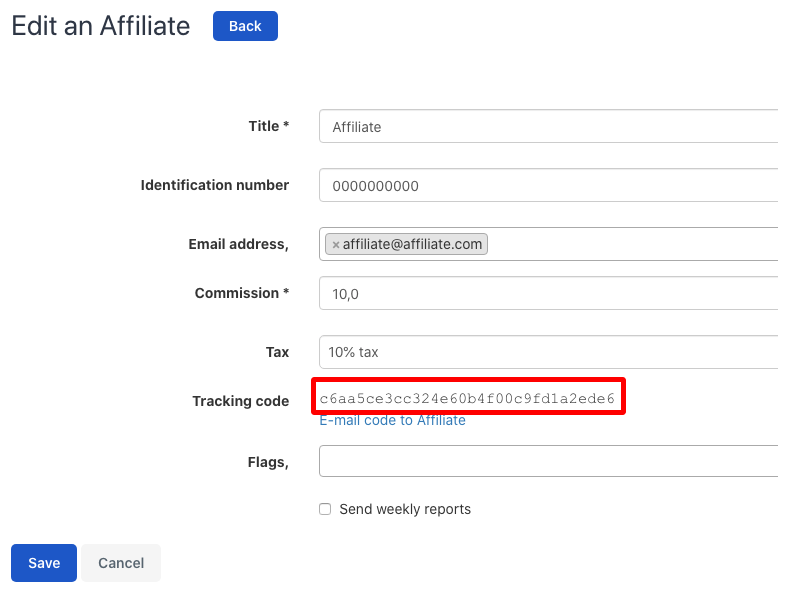 Related articles​
How to connect affiliate tracking code to widgets and give the reseller an on-line booking engine.