Barcodes (QR codes) on tickets - What are they and how to use them
This article explains the purpose of Barcodes (QR codes)
What are barcodes?​
You might have noticed this symbol in the top corners of your tickets: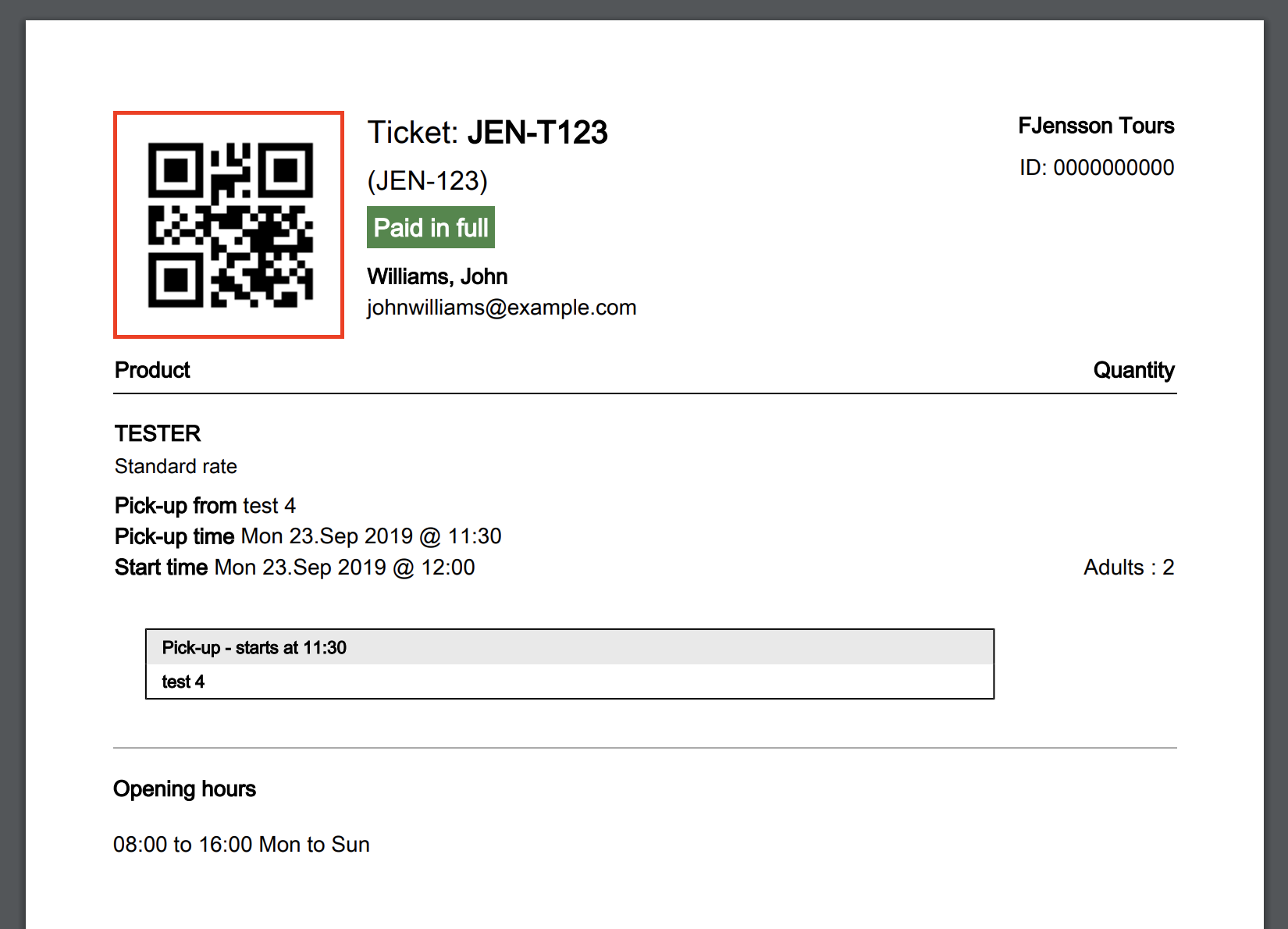 This is the tickets Barcode (QR code).
The code can be scanned to reveal the booking number relevant to the ticket. This is the only information the barcode contains.
Barcodes and OTAs​
Viator: There are two situations that can occur with Viator. If there are no barcode values being sent to Viator from Bókun, then the Viator barcode is used. This is the standard. If custom barcode values are sent to Viator through Bókun then the value is replaced.
Expedia and Get Your Guide: They generate their own tickets so unfortunately your Bókun barcode will not be visible there.
Other OTAs are connected to Bókun through our own marketplace. That means that their tickets are generated in our system and your barcode will be visible.
Changing the barcode format​
The standard format is a QR Code. You can change the format by clicking Settings in the bottom left corner and then click Account settings.
Scroll down, and you should find a section called Barcode settings. There you can find a drop-down menu in which you can select different formats of barcode.
Don't forget to hit save after you've made your selection:
You can also change the format for the ticket of a specific product only. In your experience click Tickets on the left hand side menu. Click the button next to Use a barcode format other than the vendor's default format. It turns green and a drop-down menu should appear. There you can make your selection and hit save:
The barcode (QR-code) is a default feature that companies can modify internally as they see fit. It is not mandatory to use and a lot of companies choose not to.
How can I scan the tickets?​
The Bókun Mobile App offers the ability to scan the tickets and mark travellers as Arrived. Get more information on the app here.