Enhanced refund terms: What are they and how do I add them?
Offer your customers alternative refund terms and remove the need for you to process refunds.
Enhanced Refund Terms allow you to offer your customers alternative refund terms for bookings made on your website. The Enhanced Refund Terms work alongside your current refund policies. They often fill the gap for travellers between the cancellation deadline and their departure date.
These enhanced terms cover a wide set of unforeseen circumstances. Protect group, a global provider, administers the refunds. Please find the full list of Enhanced Refund Terms here.
What are the benefits of offering Enhanced Refund Terms?​
Offer Enhanced Refund Terms without risking your own revenue
Extra peace of mind and purchasing confidence for your customers
Create an extra revenue stream and earn 1% extra on every refundable booking
Optimize your customer experience
Boost the traveller purchasing confidence
Provide more competitive refund terms without increasing risk
Drive direct online and advance bookings
Valid refunds on upgraded refundable transactions are all taken care of by Protect Group. You keep the original payment
I have flexible refund policies already, how does this benefit me?​
Great! Enhanced Refund Terms will still help your business reduce refund processing. If your travellers incur any cancellation fees any time before their booking, Enhanced Refund Terms will help you close the gap. Many of the circumstances included which prevent the customer from attending occur within 24-48 hours prior to the time of the tour / activity / event, and if the customer opts-in, there's no way you lose out (apart from losing the need to provide a refund!).
How does it work?
Upon checkout, your customers can select to make the booking refundable by adding the Enhanced Refund Terms as an optional extra. That will add 8% of the booking value to the customer's total. You will earn 1% of that amount.
If a customer cannot attend their tour because of a circumstance listed within the Enhanced Refund Terms, they can apply for their refund. They can apply for a 100% refund any time from the departure date of the tour, or for up to 60 days afterwards, through Protect Group.
You simply sit back, and let Protect Group handle the entire refund process.
Click here to view the detailed Bókun supplemental terms for offering enhanced refund terms to your customers.
Note that the Enhanced Refund Terms are an extension to your existing cancellation policies. Your customers will be offered the choice to upgrade their refund terms, or to make a booking using your standard refund terms and cancellation policy. This is only available if the customer makes a full payment at the time of booking.
How do I enable Enhanced Refund Terms?
Click Settings > Product extensions > Cancellations & Refunds
Enable Enhanced Refund Terms
What does this cost me?​
Enhanced Refund Terms cost you nothing, as all fees for this service is passed onto the traveller (choosing Enhanced refund terms is optional for the traveller). This service actually generates you money, by generating 1% of each total booking value opted-in. Please see an example of the breakdown below.
You sell two products with Enhanced Refund Terms:
1: Booking value $100, Enhanced refund terms sold for $8.
2: Booking value $500, Enhanced refund terms sold for $40.
At the end of the month, Bókun invoices you for 7% of the total amount:
$7 + $35 = $42
You have made $6 (1% of the total amount) from selling Enhanced refund terms. Below is an example of a vendor invoice and how the charge appears.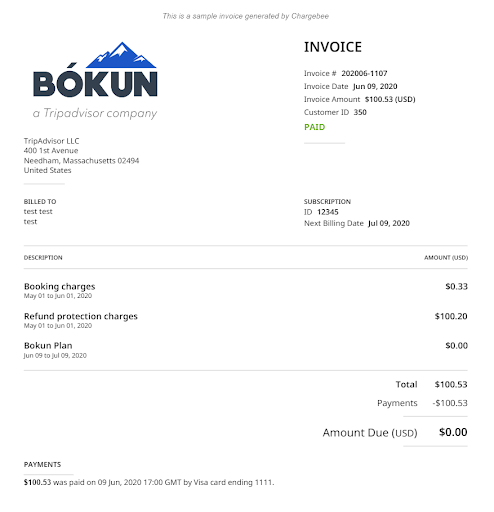 What if the customer's refund reason is not included in the Enhanced Refund Terms?​
The Enhanced Refund Terms are designed to be as broad as possible, so as long as the reason isn't "I don't want to go any more" and is an unforeseen/emergency circumstance, there's a very big chance that their refund will be accepted as valid.
There are some reasons that won't fit, so after being re-reviewed by a Refund Team Manager, if the traveller's reason still isn't valid, you can choose to let the traveller accept this or even refund them yourself. You'll still be reducing refunds and delivering the best customer service possible!
How many travellers usually opt-in?​
We usually see between 20% - 25% of clients' travellers opt-in to this service. In a post-pandemic world, financial protection is front-of-mind.
I don't have many bookings yet, should I leave it until I do?​
We would highly recommend turning the Enhanced Refund Terms on as soon as possible. That way you can start maximizing revenue from each booking – no matter how many you are processing!
Do these enhanced terms include COVID-19 related circumstances?​
We are very clear to each traveller that these do not cover COVID-19 related circumstances. That is due to the pandemic being currently active and thus very high risk. However, it's important to remember that despite the pandemic being a threat, travellers still experience the common scenarios included in their daily lives and therefore still purchase these Enhanced Refund Terms.
Here are the temporary COVID-19 terms in detail.
What if I don't want to offer Enhanced Refund Terms?
Customers will only be refunded in accordance with your cancellation policy
No extra revenue from this service
Cancellations & refunds will be managed, resolved and processed by you
A customer that bought Enhanced Refund Terms wants to cancel and get a refund, what happens next?​
The customers apply for a refund with Protect Group here
If eligible, the customer will get a refund within 7 days of the cancellation
The customer gets 100% of their transaction refunded. Including booking fees, payment fees, refund protection fee, etc.
The refund is handled by Protect Group, and does not come out of your pocket.
A customer that didn't buy Enhanced Refund Terms wants to cancel and get a refund, what happens next?​
The customer cannot apply for a refund with Protect Group
Whilst your cancellation policy applies, you can offer and process a refund if you wish to do so. Learn more about refunds.