Creating value gift cards to sell your products
Give your customers an option to share your experiences with their friends and family by offering gift cards.
Gift cards are a great way for your customers to give their friends and family a chance to experience your tours and activities. You can create gift cards in Bókun and sell them directly on your website. The gift cards can then be used by your customers via your online booking engine.
Types of gift cards​
In Bókun you can create two different kinds of gift cards. Value based ones or experience based ones.
Experience gift cards​
Experience gift cards can only be used for a specific experience. You can find additional information on how to create them below.
Value gift cards​
Value gift cards can be used for all experiences you offer but are for a specific value. You can find more ifnormation on how to create them here.
If you've already created your gift cards, learn more about how you can sell them on your website.
How do I create value gift cards?​
Click Experiences > Gift cards.
Go to the Online collection section in the top menu
Click Create new collection
Select Value gift card and enter the title of your new collection list.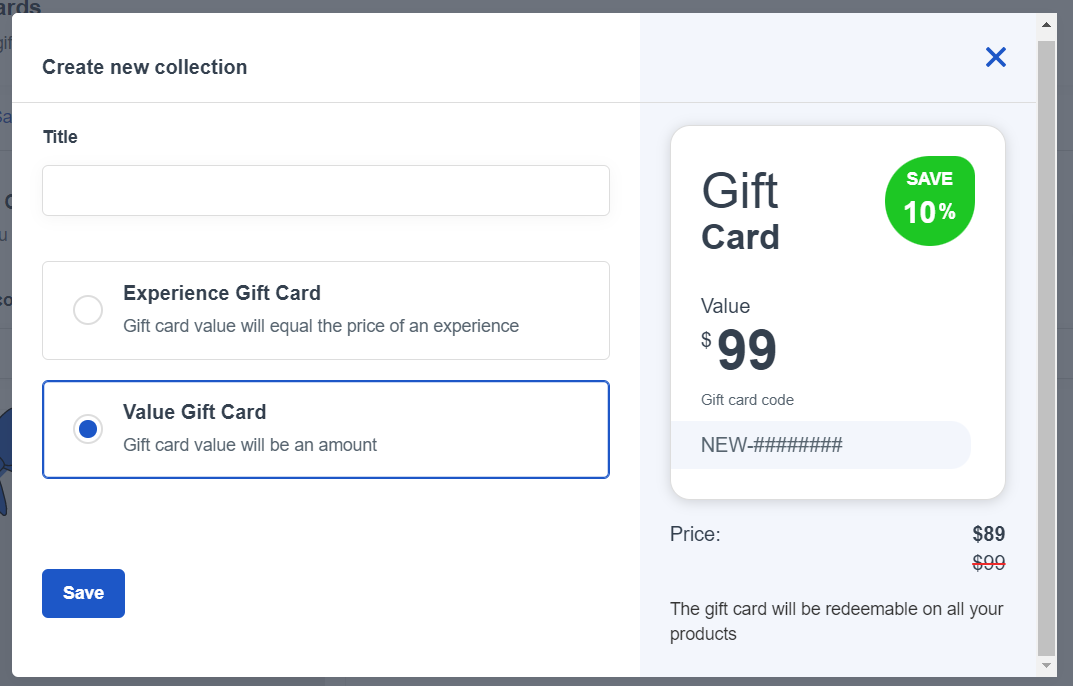 Once done, you'll be able to add different gift cards for different values to the list. Select Create gift card option.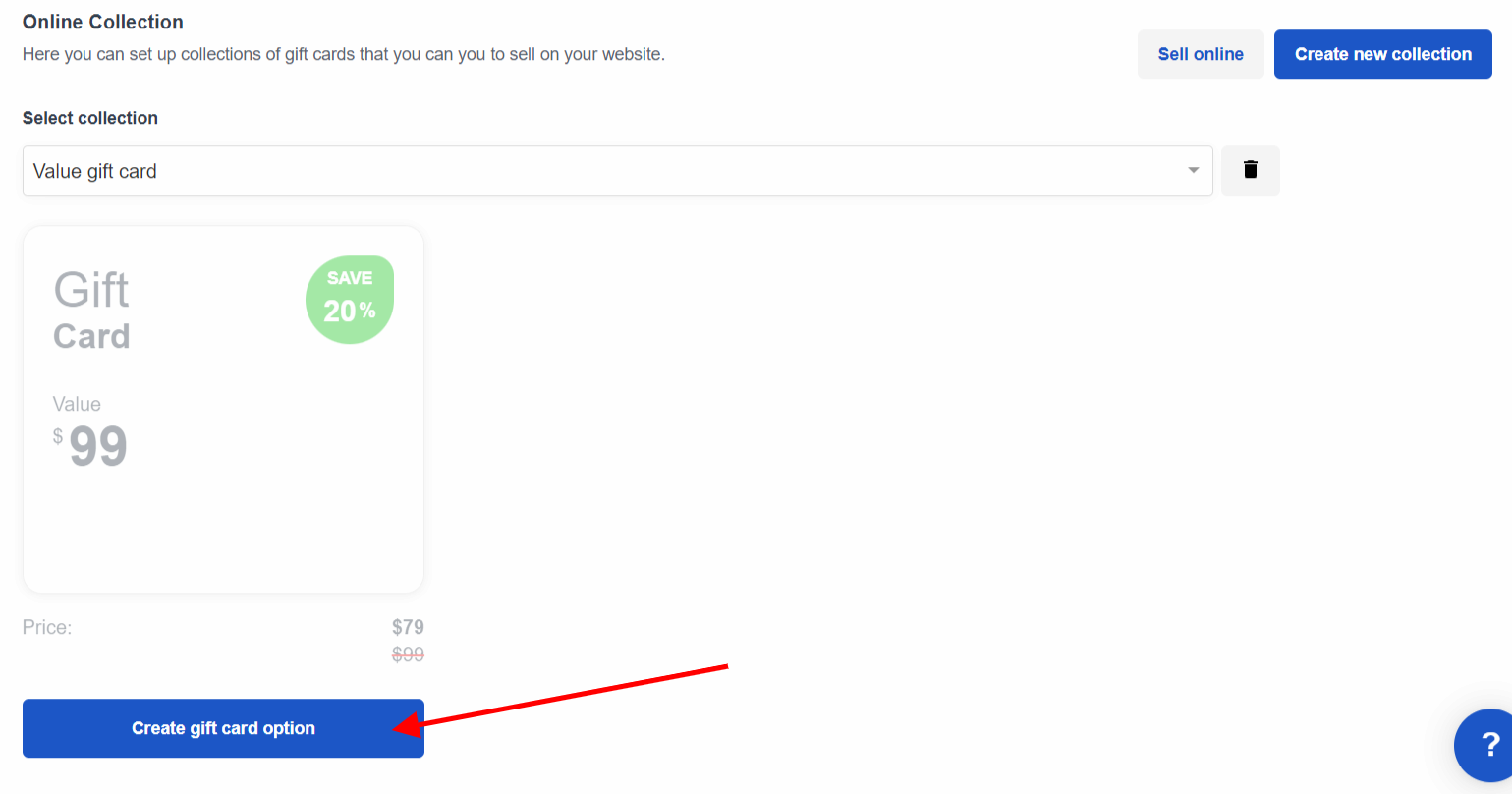 Please note the gift card will be redeemable on all experiences.
Fill in all the information needed for the gift card configuration:
Card value: The amount of the gift card, e.g. 100 USD
Currency: Choose the currency of the gift card.
Discount: Choose a discount in % applied to the card, i.e. the card value is $100, but you offer a discount of 25%, meaning the traveller only has to pay $75 for a $100 value card. Offering a discount can help boost sales but isn't mandatory.
Code prefix: The word or letters you use as reference to identify the gift card codes, maximum 7 letters.
Title: This is the name of the gift-card. It's only for internal use and won't be displayed to your customers.
Card expiration: Choose a date when the gift card expires. We recommend setting it to at least 12 months.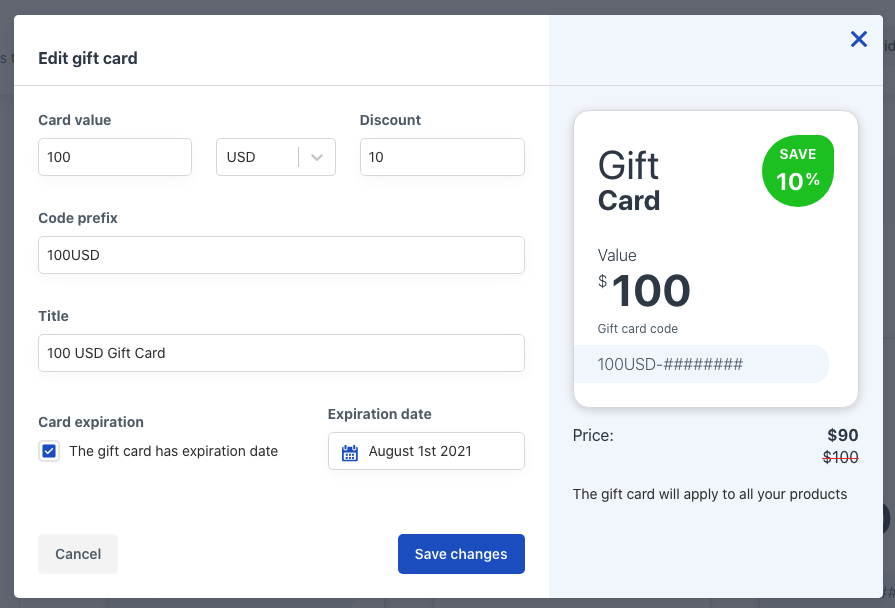 2. Click Save changes. Once your gift card configuration is ready, you can sell your gift card by creating a gift card booking engine to add to your website.
Can I also offer one-off gift cards?​
Yes, you can still create one-off gift cards. In the gift card menu, click Create a gift card on the right-hand side. However, please note that these types of gift cards have limited quantity and can't be sold on your website.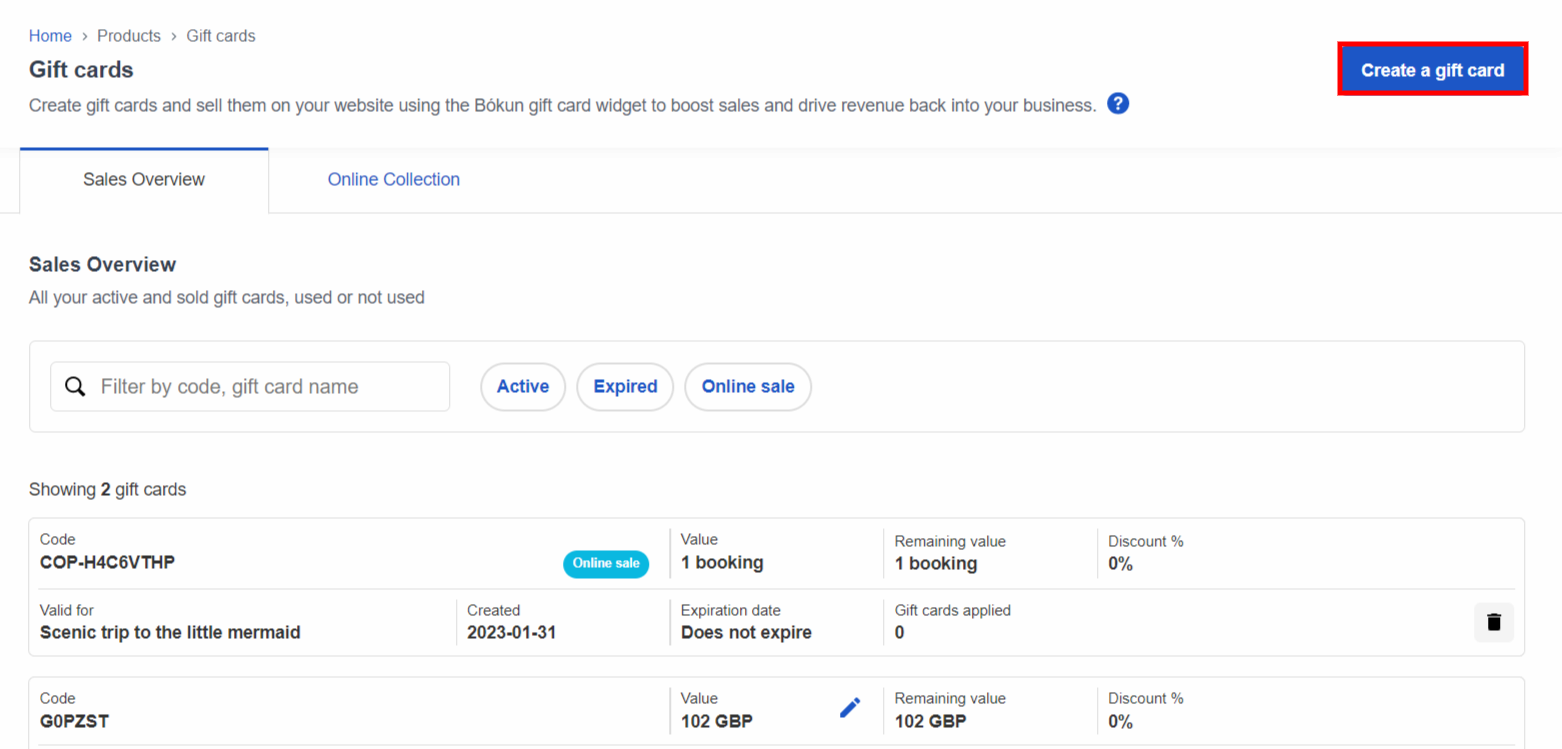 If you want to sell your gift cards online, please follow the instructions above to create new gift card configurations.
What does the gift card look like to the traveller?​
Travellers can purchase the gift cards just like any other product. Here's a preview of the gift card widget: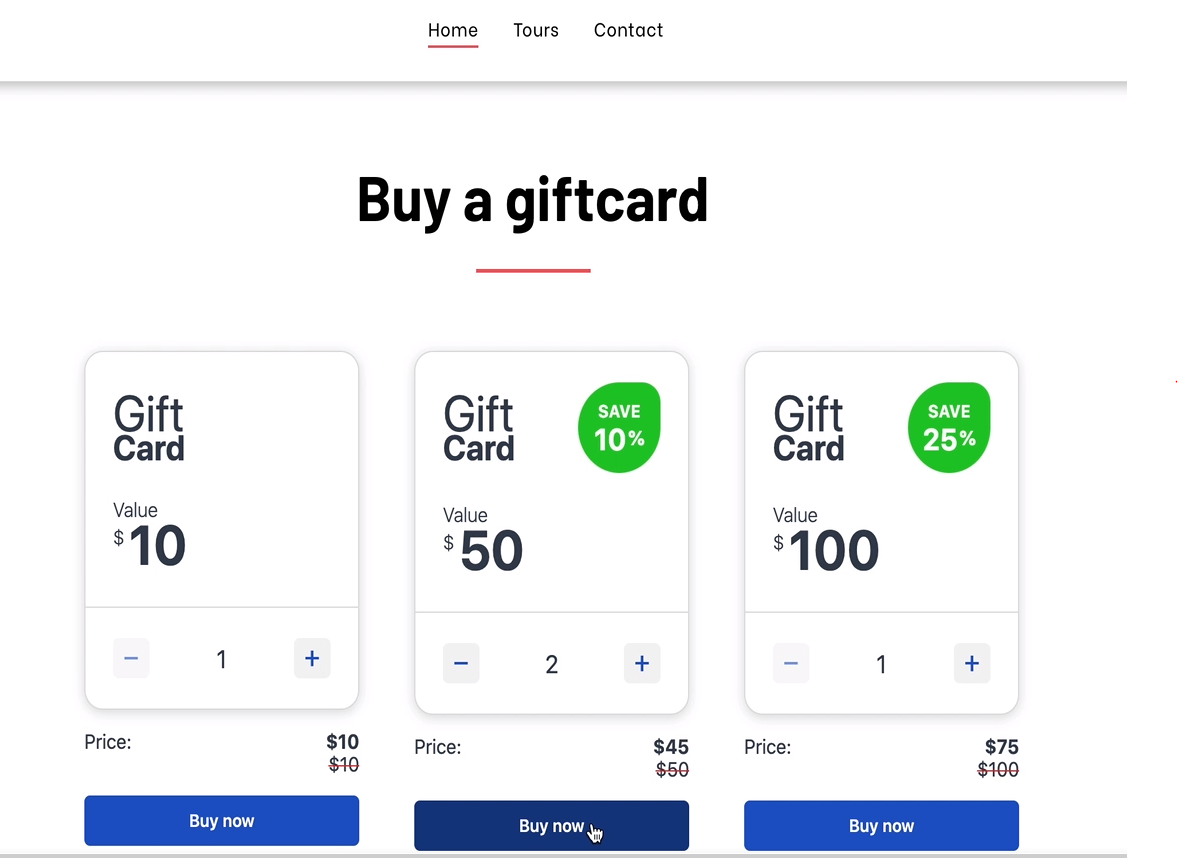 Where does the traveller use the gift card?​
Once the guest has started the booking process in your widget, they will be promted to enter a gift card in the order summary.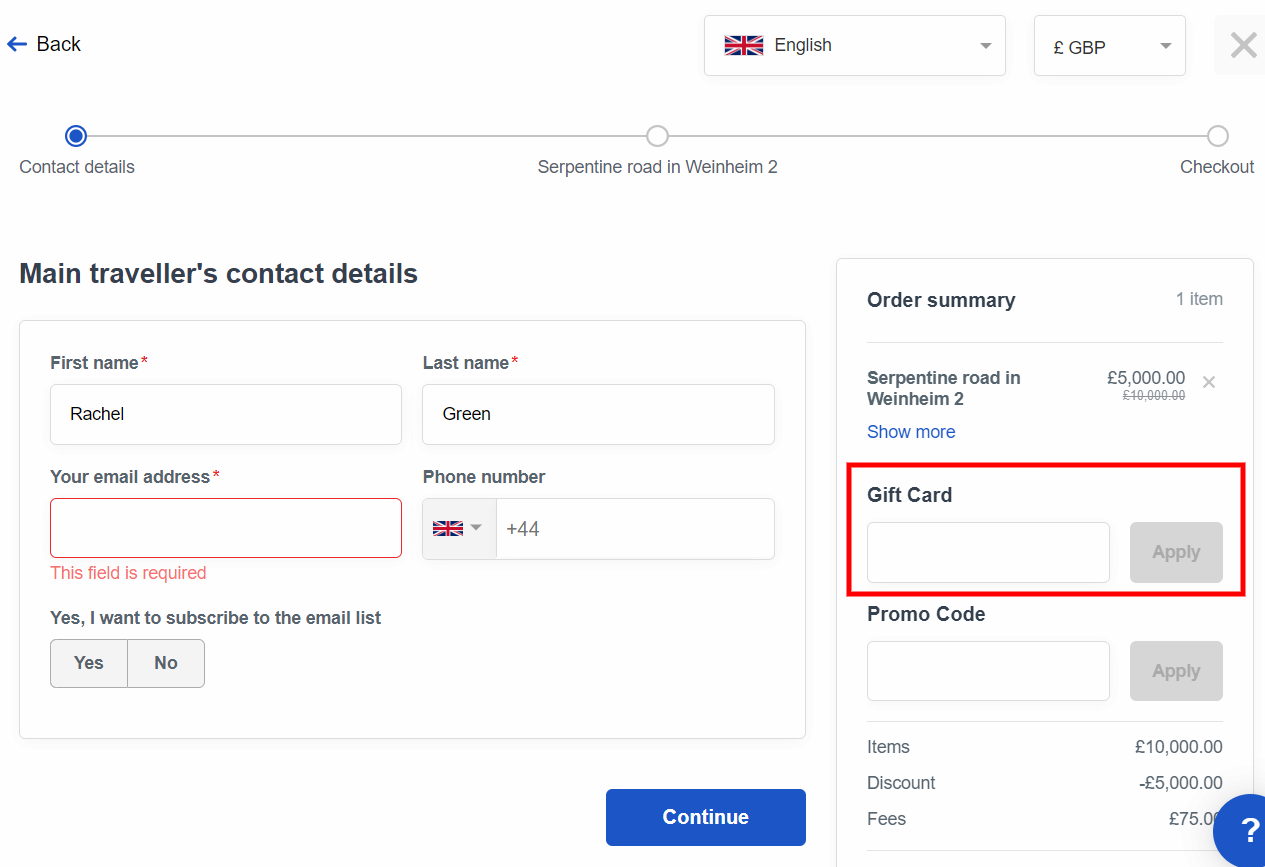 ✴️Please note that you have the option show the gift card section as seen above or to show a clickable section instead. This depends on your booking channel settings.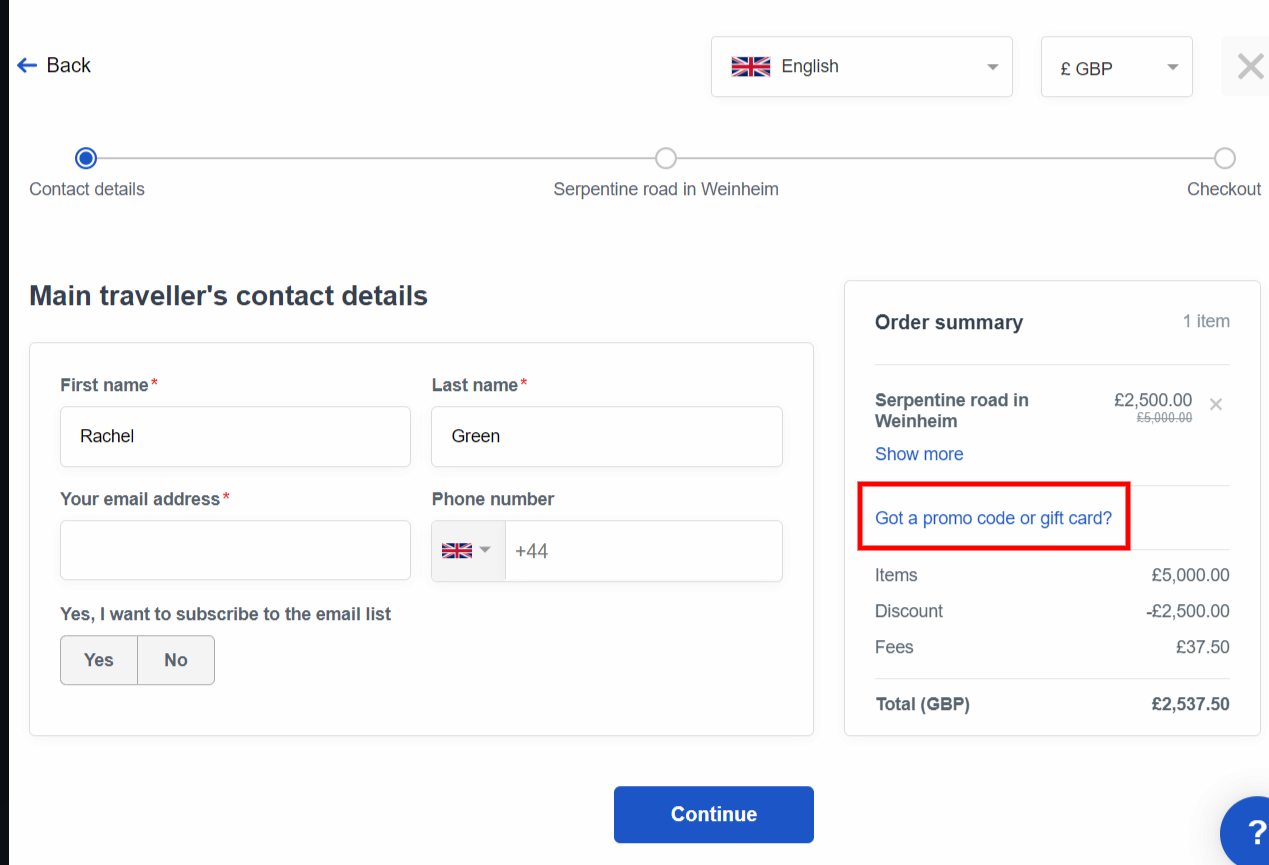 Related articles​
Creating experience gift cards to sell your products
How can I sell gift cards on my website?
How to accept gift cards in your widgets