How to navigate Search Engine Optimization (SEO)
Increase the quantity and quality of your website's traffic.
If you don't have a Bókun Website yet, create one in your Bókun account with one click: How to create a Bókun website
Search engine optimization (SEO) is the process of affecting the visibility of a website in a search engine's "natural" or "organic" search results. In general, the earlier and more frequently a site appears in the search results list, the more visitors it will receive from the search engine's users.
It is always a good idea to set your SEO keywords, descriptions, and page titles. These are key terms that search engines use to rank and find your site. In the Bókun Website Builder, there are two places to set SEO keywords: Page Settings and Site Settings. Here is an example of how to set keywords, descriptions, and titles for your site.
By adding the Advanced Website Upgrade app, you can configure SEO for your website. Get more information on our Apps.
SEO Basics​
In the Bókun Website Builder, click on Settings on the left-hand side and then click SEO.
Site title​
A title tag tells both users and search engines what the topic of a particular page is. Ideally, you should create a unique title for each page on your site. Choose a title that describes the topic of the page's content. Each of your pages should ideally have a unique title tag, which helps Google know how the page is different from the others on your site. Titles can be both short and informative. If the title is too long, Google will show only a portion of it in the search result.
Site Description​
The site description may be used by search engines when they display the content of your site on their results page. So, while this field is not important for search engine rankings, it is very important to make users to click through to the site.
This description is your opportunity to advertise site content to people and let them know exactly whether your page contains the information they are looking for. A good description is between 130 and 170 characters and tells an accurate description of what the site is about.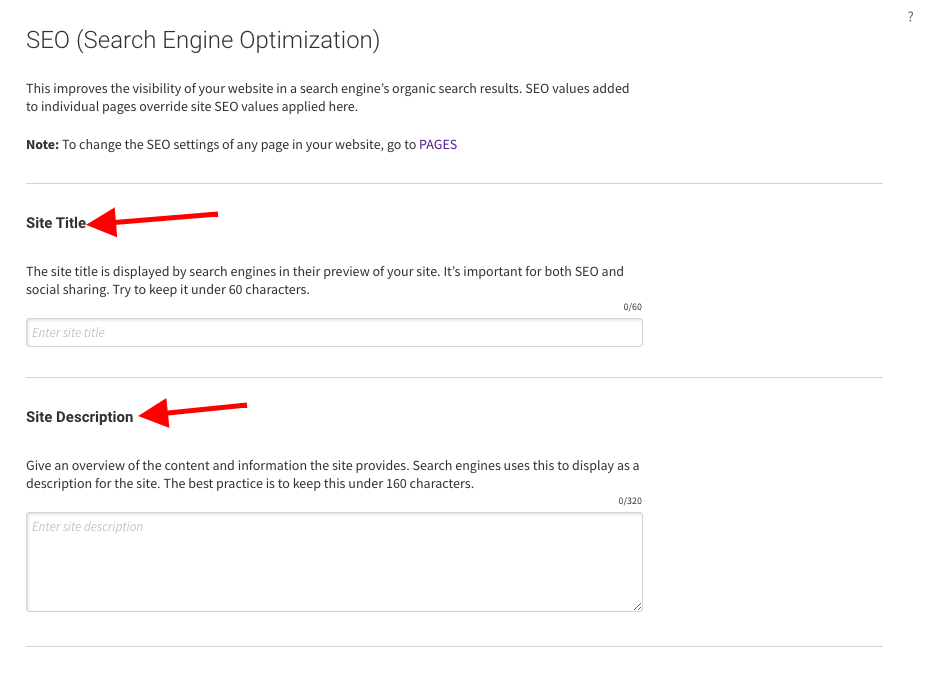 Site keywords​
Keywords are the terms that people search for while trying to find your site. The important part about keywords is that they match the content on the desktop site. Meaning that if you are running a safari tour, you should not have keywords relating to skiing. Note that major search engines do not use keywords to determine your site's ranking, all keyword usage should be optional.
Lazy Loading and Fonts​
Lazy loading of images and widgets improves page speed by loading images and widgets when they become visible on scroll. You can also enable an option to display default system fonts, so visitors can start reading instantly while site fonts are loading.
Make sure these are checked to improve your loading time.